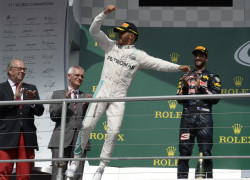 After the Saturday qualifying session Mercedes' Nico Rosberg was on top of the world after delivering a stunning lap, for pole, under extreme pressure.
But the German's euphoria on home soil was short lived as teammate Lewis Hamilton rocketed into the lead of the race. Hamilton went on to taste the sweet success of victory at the German grand prix while teammate Rosberg stumbled at home.
Not only did Rosberg fall behind his teammate but also both Red Bulls of Daniel Ricciardo and Max Verstappen. For several fleeting moments it appeared that Rosberg would have the pace to recover to second place. But the afternoon went horribly pear-shaped for the Merc driver. In an attempt to overtake Verstappen he tried an Austria-esque move, which, again, didn't pan out. It resulted in a 5-second penalty and despite being in the cockpit of the most dominant car on the grid Rosberg slunk home in fourth place.
After the Russian grand prix Rosberg had a 43-point lead over Hamilton. But now we've seen a 62-point swing in Hamilton's favour.  There's only so many times you can accept losing points to a teammate before it becomes awkward. Yes, there is still half a season to go but this dramatic swing in points will do nothing to quell the questions Rosberg's psychological make-up.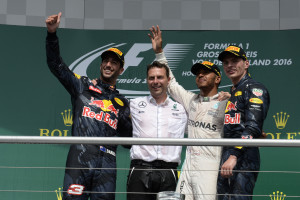 Red Bull Racing completed a satisfactory day at the office with their first double podium since the 2015 Hungarian Gp. Ricciardo led home teammate Verstappen and ensured that Red Bull head into the month-long break ahead of Ferrari in the constructors standings.
With 5th and 6th for Sebastian Vettel and Kimi Raikkonen Ferrari have big concerns heading into the summer break and are now behind Red Bull not only on points but also in terms of raw pace.
Nico Hulkenberg delivered the best Force India could hope for with seventh place while drive of the day belongs to McLaren driver Jenson Button in eighth. The Brit summarily out-performed his highly acclaimed teammate Fernando Alonso who finished twelfth.
It was easy to discern the great spirit of the two McLaren drivers from the radio comms between them and their pitwall. It hasn't been easy for these two champions to endure this car but it does reveal a great deal of their passion for racing for still being as spirited as ever behind the wheel.
Hamilton now leads the driver's standings by 19 points. There is no doubt that Rosberg is a talented driver but the questions and doubts about his mental strength will be raised once more.
(All images courtesy of Pirelli Motorsport)