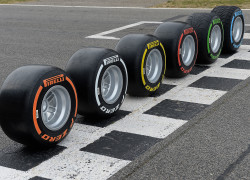 Formula 1 tyre supplier Pirelli have announced their tyre choices for Silverstone, Hungaroring, Spa and Monza.
The two hardest compounds in the Pirelli range, the orange hard and white medium compound, have been selected for the British Grand Prix which takes place at the Silverstone Circuit. Because of the fast and flowing nature of the circuit that puts a large amount of lateral energy through the tyres Pirelli say that the two hardest compounds should be ideally suited. The soft compound was considered but if the weather turns out to be warmer than expected the soft tyre will suffer from excessive degradation.
For the three races that follow the British Grand Prix, the Hungarian, Belgian and Italian Grands Prix, Pirelli have gone for the white medium compound tyre and yellow soft compound tyre.
Due to the high temperatures experienced at the Hungaroring Pirelli feel that the soft and the medium compound tyres will hold up well to the high temperatures and will resist thermal degradation.
They have gone for consistency in Spa and believe that the tyre choice, which is the same as last year, will be best suited for the task.
For their home Grand Prix in Italy Pirelli have thrown caution to the wind and went with the soft and medium compound compared to last year where the medium and hard compound tyres were used. Due to the new durable 2015 tyre construction, they feel that the tyres will be able to hold up to what Monza has to offer. The tyre choice should also throw up some interesting strategies for the race.
Photo by courtesy Pirelli