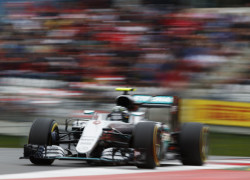 Nico Rosberg has been handed a 10-second time penalty for causing a collision with Mercedes team-mate Lewis Hamilton on the final lap of the Austrian Grand Prix.
Rosberg made contact with Hamilton at Turn 2 after a brake-by-wire failure at Turn 1 which saw him run wide. This allowed Hamilton, who was already within DRS range, to close up to Rosberg and pick up the slip stream on the run to Turn 2. Rosberg defended the inside line. Hamilton took the outside line into Turn 2.
Rosberg went a bit too deep on the brakes and went straight on. Hamilton meanwhile took a wide line around the outside. Rosberg made contact with Hamilton's right sidepod which sent the Brit on to the run off. Rosberg with a collapsed front wing made the corner and pushed on. Hamilton off the track tried to rejoin but was momentarily blocked off by Rosberg and had to lift off and rejoin the track.
Hamilton eventually got passed Rosberg on the run to Turn 3 just before a yellow flag zone where Force India's Sergio Perez had crashed. It is at that moment that Rosberg's wing worked its way loose and became lodged under the nose of his Mercedes.
With Verstappen and Raikkonen not far behind. it was only a matter of time before Rosberg was passed. He eventually crossed the line in 4th dragging the broken front wing under his car.
After the race the stewards had summoned Rosberg and Hamilton to explain themselves after the race. In addition Rosberg was also cited for breaching Article 12.1.1 h) of the FIA International Sporting Code.
After a quite a lengthy deliberation the stewards handed Rosberg a 10-second time penalty to his race time for causing a collision and 2 points on his license.
"Having taken note of the extensive evidence given by both drivers and the video and telemetry data, it was apparent that Car 44 (HAM) was in front of Car 6 (ROS) – i.e. more than fully alongside – and that the driver of Car 44 could have clearly made the turn (T2) on the track, if not for the resultant collision," said a statement by the stewards.
"Car 6 did not allow Car 44 "racing room" and hence the driver of Car 6 was responsible for the collision," the statement concluded.
Rosberg also received a reprimand for breaching Article 12.1.1 h) of the FIA Sporting Code.
"It was disappointing to lose the race like that," said Rosberg after the race
"It got quite difficult on the final few laps as I had to manage my brakes and I was confident that I could bring the victory home.
"I had the inside line and we both went into the corner a bit long. I was surprised that Lewis turned in and it ultimately meant that we came together – that's how the sport goes sometimes but it's really difficult to lose the race in that way."