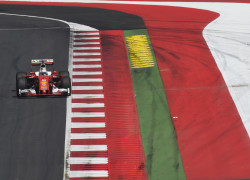 The FIA has said that it will not make changes to or remove the kerbs around  the Red Bull Ring that have proved to be unforgiving on drivers that have driven over them.
Daniil Kvyat's suspension failure in qualifying, which lead to a spectacular crash in Qualifying, was caused by the loads generated by the kerbs. The kerbs in question are the yellow painted ones that are places beyond the traditional red and white apex kerbs.
Nico Rosberg also suffered suspension in Free Practice 3, but he ran over the red and white kerbs. According to Toto Wolff, who spoke to Motorsport.com, said that the suspension failure was not caused by the load of the kerbs exerting on the suspension but rather a strange oscillation on the tyre that causes the suspension to break.
The FIA seem very firm on this issue and it does not look like they will accede to the teams.
The high speed nature of the track and with each driver trying to user every last millimeter of the track means that sometimes a driver will tend to drift a bit wide if he carries too much speed into a corner. The kerbs in this case act as a deterrent in almost the same way a gravel trap would. In the eyes of the FIA a driver gains an advantage by running wide as he is able to maintain his speed.
The kerbs, in this case, provide enough of an incentive for the driver to keep within the track limits.
Picture Credit: Scuderia Ferrari Formula One