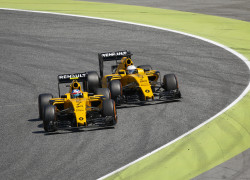 Renault's Kevin Magnussen was given a 10-second time penalty and two penalty points on his license after his Turn 13 incident with team-mate Jolyon Palmer.
Magnussen made contact with Palmer on the final lap of the race while attempting a pass at Turn 13 for 13th position. While Magnussen was on the soft tyres and had more grip the stewards deemed that Magnussen would have not made the corner and resulted in forcing Palmer wide.
"Car 20(Magnussen) was on a new set of soft tyres, and Car 30(Palmer) was on an older set of hard tyres leading the driver of Car 20 to have significantly better grip and speed," said the stewards in a statement
"However, the Stewards determined that Car 20 could not have reasonably expected to make the corner of Turn 13 without colliding with Car 30, which was subsequently forced off the track.
"The Stewards imposed the penalty referred to, which was converted to a time penalty after the race as the cars were on the last lap."
Photo credit: Renault Sport Formula 1 Team