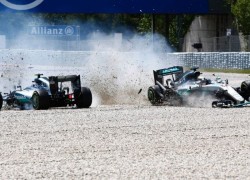 Following the first lap crash which saw both Mercedes cars out of the Spanish Grand Prix. The stewards have decided that no further action will be taken on either Nico Rosberg or Lewis Hamilton.
The crash happened before Turn 4 on the opening lap of the Spanish Grand Prix after Nico Rosberg took the lead from pole sitter Lewis Hamilton into Turn 1. Both Rosberg and Hamilton had good starts off the line but Rosberg had the advantage through Turn 1 as he swept around the outside and took the lead of the race.
Around Turn 3 Rosberg's car started to de-rate. Which meant his car was harvesting energy halfway through the corner. This also meant, according to Hamilton, that Rosberg was 180HP down on power around Turn 3. Hamilton saw this happen and took advantage of the situation and dived for the inside line on the run to Turn 4. Rosberg meanwhile, noticed the incorrect engine mapping and changed it mid corner and then moved to defend his line into Turn 4. This move then squeezed Hamilton off the track and onto the grass which sent Hamilton's car into a spin. He then made contact with Rosberg who was braking for Turn 4 and resulted in both Mercedes out of the race and promoted Red Bull's Daniel Ricciardo into the lead.
The pair were summoned to the stewards after the race where they decided that "neither driver was wholly or predominantly at fault." No further action was taken.
"The incident concerned started when Car 6 dropped into an incorrect power mode, as set by the driver prior to the start," read a statement by the stewards
"This created a significant power differential between Car 6 and Car 44 at the exit of Turn 3 coming onto the straight, resulting in as much as a 17kph speed difference between the two cars on the straight.
"Car 6 moved to the right to defend his position, as is his right under Art 27.7 of the Sporting regulations
"Simultaneously Car 44 as the significantly faster car with, at that time, apparent space on the inside, moved to make the pass. Art 27.7 requires the leading driver to leave room, if there is a "significant portion" of the car attempting to pass alongside.
"Car 44 had a portion of his front wing inside Car 6 small fractions of a second prior to Car 44 having to leave the right side of the track to avoid an initial collision, which may have led him to believe he had the right to space on the right
"Once on the grass on the side of the track Car 44 was no longer in control of the situation.
"Having heard extensively from both drivers and from the team, the Stewards determined that Car 6 had the right to make the maneuver that he did and that Car 44's attempt to overtake was reasonable, and that the convergence of events led neither driver to be wholly or predominantly at fault, and therefore take no further action."