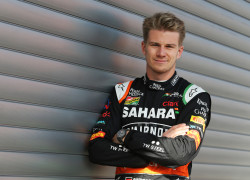 Nico Hulkenberg will drive for the Renault F1 team from 2017.
Hulkenberg will join the Enstone based team on a multi-year deal.
Rumors have been circulating about Hulkenberg's exit from Force India but in the recent weeks they've become louder. He was, however, tied to Force India for another year but Deputy Team Principal at Force India, Robert Fernley has said that he would not hold the German back.
The announcement earlier on Friday 14 October 2016 all but confirmed his move to Renault for 2017.
"I'm very happy to join Renault Sport Formula One Team in 2017," said Hulkenberg in a statement.
"Renault has always been a big player in the motorsport world that brings up incredible memories: in his stint with Renault, Michael Schumacher not only helped make Germany an F1 nation, he also sparked my enthusiasm and fire for racing.
"As a part of the Renault family, I want to develop the car and write new success stories.
"It has always been my dream to work for a manufacturer team," Hulkenberg added
"F1's new regulations will change the game and give our team a good opportunity.
"In the years to come, Renault will play a challenger role, which fits my approach to racing 100%. I can't wait to become part of the family.
Jérôme Stoll, Renault Sport Racing Chairman had this to say about Hulkenberg's appointment:
"2017 will be the second season of Groupe Renault's return as a manufacturer entry in Formula 1 and the next step in our journey.
"This season has been about putting the foundations in place for future success. For our next step we required an experienced driver who is still hungry for podiums.
"Nico Hülkenberg fulfils this role perfectly and is an excellent complement to what we want to achieve.
"He is a highly talented, dedicated and motivated driver. Nico will enable us to harness all the hard work completed this season and translate it to improved results on track in 2017 and beyond.
"We look forward to seeing him in our new car for 2017."
Photo credit: Sahara Force India Formula One Team