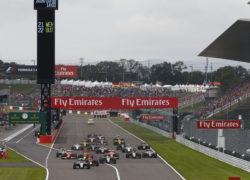 Around this time of year into every Formula 1 season we are well into what has not become known as "silly season". The rumor mill is cranking out at full steam about which driver is moving to a new team, which drivers are staying at their current teams.
More often than not, the look of the following season's grid depends on one driver who holds the key to starting the chain reaction of other driver announcements around the paddock.
Early in the season Kimi Raikkonen held they key to the driver market for a short while. Ferrari moved quickly to sign him on for another season and the key fell into the hands of Jenson Button for some time.
Over the course of the season Red Bull, Ferrari, Mercedes and McLaren have confirmed their driver line up for the 2017 season. Nico Hulkenberg held they key to the market for some time with his future up in the air at Force India until he was confirmed at Renault for 2017.
As it stands, Force India, Williams, Toro Rosso, Haas, Renault, Manor and Sauber have not yet confirmed their driver line ups.
Force India
Sergio Perez's future at the team was in question for a long time. He was linked to Ferrari, Haas and then Renault. He confirmed his plants early in October which left Hulkenberg an unknown. Few days later Hulkenberg confirmed his plans that he will move to Renault for 2017. One seat at Force India is open and Manor's Pascal Wehrlein has been widely tipped to join the Silverstone based team. Esteban Ocon has also been linked with a Force India drive.
Toro Rosso
Carlos Sainz will be at the junior Red Bull team for 2017. A question mark remains over Daniil Kvyat's head. After being demoted to the team after the Russian Grand Prix earlier in the season, he has suffered a slump in form. His recent performances have seen an up-tick in form. Red Bull junior driver Pierre Gasly has been linked to the Toro Rosso drive.
Renault
Renault have signed Nico Hulkenberg for 2017 on a multi year deal. This keeps him in place at Enstone for a while. Renault needed an experienced driver for the new set of regulation changes that take effect in 2017. The second seat at Renault has a few drivers fighting for it with Kevin Magnussen and Jolyon Palmer in the running. Manor's Esteban Ocon has also been mentioned and his chances are looking up at Renault. Valtteri Bottas who is not yet confirmed at Williams has also been linked with a move to Renault.
Williams
Williams like Sauber and Manor do not have their 2017 line ups confirmed. With Felipe Massa retiring at the end of the season and a question mark over Bottas' future at the team. It is understood that if he were to re-sign for the team he wants a shorter contract term. Canadian Lance Stroll is in the running for a Williams seat. He comes with a $36 million cash injection which makes it hard for the team to turn down. He was also crowned Formula 3 Euro Series Champion.
Haas
Romain Grosjean is expected to keep his place at the team. Esteban Gutierrez, who's had a string of 11th place finishes this season, seems to be on the bubble of staying in the team.
Manor
With both Pascal Wehrlein and Esteban Ocon tipped to move to other teams next season Manor will be looking for new talent next year. Being supplied by Mercedes we may see drivers that are closely aligned with the Mercedes young driver program.
Sauber
Both Marcus Ericsson and Felipe Nasr are yet to hear about their futures at Sauber. The team's new owners are likely to keep the driver line up for next year.
McLaren
McLaren have signed Stoffel Vandoorne to partner Fernando Alonso from next year while keeping Jenson Button on a retainer with an option to drive in 2018. In all honest it does seem that this will be Jenson Button's