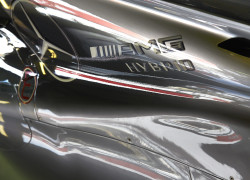 As the final Free Practice session for the the Abu Dhabi Grand Prix got underway, it emerged that the Mercedes Formula 1 Team have written to the FIA requesting clarity on wind tunnel regulations regarding technical partnerships with other teams.
With the Haas F1 team set to enter the Formula 1 circus next year and with Haas using mostly Ferrari components in its cars, there are concerns that Ferrari are benefiting from the wind tunnel testing that the Haas F1 team are performing at the Ferrari wind tunnel in Maranello.
The current regulations limit wind tunnel use for teams that are competing in a season. For new teams entering F1, there are no such regulations. It was believed that Ferrari were using this to perform wind tunnel testing of their own with the Haas F1 team. This prompted a FIA investigation and Ferrari was subsequently cleared of any wrongdoing.
In the document sent to the FIA by Mercedes say that "there are a number of ambiguities within Appendices 6 and 8 to the Sporting Regulations," and that they request the stewards to settle the matter.
Mercedes is seeking clarity on development on "listed parts" in the wind tunnel. "Listed parts" include the monocoque, survival cell, front impact structures, roll over structures, wings, floor, bodywork and the diffuser.
According to Motorsport.com, there has been a constant dialog between Mercedes and the FIA regarding the matter for most of the season. The FIA advised Mercedes to take up the matter with race stewards.
Mercedes' Toto Wolff insists that this is not a protest against Ferrari, but merely a clarification on the matter.
"We have been seeking some answers which were not given in complete clarity from the FIA before, and I think this is for everyone to know what the situation is," he told Motorsport.com.