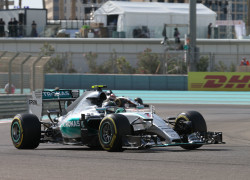 Nico Rosberg finished fastest in the 3rd Free Practice session for the Abu Dhabi Grand Prix.
Despite saying that he will be down on power this weekend. Rosberg set a time of 1:41.856 on the super soft tyres to go 0.281s faster than Mercedes team-mate Lewis Hamilton. Hamilton struggled to get in a clean lap on the options after running wide at Turn 6. He managed to get close but seemed to be loosing time in the middle sectors.
Ferrari's Sebastian Vettel managed 3rd fastest with Force India's Sergio Perez finishing in 4th ahead of Kimi Raikkonen. Perez, who finished well in FP2, seems to have a good feel for the track and could pull a surprise in Qualifying.
Red Bull's Daniel Ricciardo ended the session in 6th place. Team-mate Daniil Kvyat did not set a time in the session after an electrical problem was discovered on his car. The Red Bull mechanics managed to get him back out on track, but the problem persisted. He was then told that they will not be able to fix the problem.
Nico Hulkenberg was 7th in the other Force India ahead of the Williams pair of Felipe Massa and Valtteri Bottas in P9 and P10 respectively.
Carlos Sainz in the Toro Rosso had a good session and was up to 6th place after all the runs on the soft tyre were completed. He set his best time of 1:43.429 on the super soft tyres which earned him 10th. Jenson Button in the Mclaren was 11th.
Pastor Maldonado ended the session in 12th ahead of Sauber's Felipe Nasr in 13th, Toro Rosso's Max Verstappen in 14th and team-mate Romain Grosjean in 15th who complained that the car was undrivable for most of the session.
Fernando Alonso was down in 16th place with Marcus Ericsson in 17th. The two Manor cars of Stevens and Merhi in 18th and 19th respectively.
| | | | | |
| --- | --- | --- | --- | --- |
| Pos. | Driver | Team | Best Time | Gap |
| 1 | Nico Rosberg | Mercedes | 1:41.856 | – |
| 2 | Lewis Hamilton | Mercedes | 1:42.137 | 0.281 |
| 3 | Sebastian Vettel | Ferrari | 1:42.185 | 0.329 |
| 4 | Sergio Perez | Force India | 1:42.448 | 0.592 |
| 5 | Kimi Raikkonen | Ferrari | 1:42.627 | 0.771 |
| 6 | Daniel Ricciardo | Red Bull | 1:42.726 | 0.870 |
| 7 | Nico Hulkenberg | Force India | 1:42.859 | 1.003 |
| 8 | Felipe Massa | Williams | 1:43.173 | 1.317 |
| 9 | Valtteri Bottas | Williams | 1:43.429 | 1.383 |
| 10 | Carlos Sainz | Toro Rosso | 1:43.429 | 1.573 |
| 11 | Jenson Button | McLaren | 1:43.508 | 1.652 |
| 12 | Pastor Maldonado | Lotus | 1:43.680 | 1.824 |
| 13 | Felipe Nasr | Sauber | 1:43.718 | 1.862 |
| 14 | Max Verstappen | Toro Rosso | 1:43.826 | 1.970 |
| 15 | Romain Grosjean | Lotus | 1:43.928 | 2.072 |
| 16 | Fernando Alonso | McLaren | 1:44.014 | 2.158 |
| 17 | Marcus Ericsson | Sauber | 1:47.283 | 2.469 |
| 18 | Will Stevens | Manor | 1:47.283 | 5.427 |
| 19 | Roberto Merhi | Manor | 1:47.520 | 5.664 |
| 20 | Daniil Kvyat | Red Bull | No Time | – |