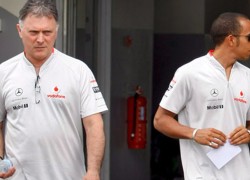 The Manor Formula 1 Team have appointed former McLaren Sporting Director Dace Ryan as their Racing Director replacing the outgoing Graeme Lowdon.
This announcement comes a day after Lowdon announced his departure from the team. Ryan will take over with immediate effect.
Ryan left McLaren after he was found guilty by the FIA for bringing the sport into disrepute for lying to the race stewards at the Australian Grand Prix in 2009. After leaving McLaren he started the Von Ryan Racing team which competes in the Blancpain Endurance Series.
"I'm very excited to be joining the Manor Marussia F1 Team at a pivotal time in their development," said Ryan.
"Having spent time with Stephen, and understood his vision for the future, it is clear he has ensured there is a strong platform from which the team can make big steps forward in the seasons ahead," he added.
"Manor has all the hallmarks of a fiercely competitive racing team, but having grown up in a much more contemporary Formula 1 era, it is a very lean operation with a collaborative culture, which leaves it well placed to contend with the sport's future direction.
"There is clearly a big challenge ahead and a lot of work to do, but I can't wait to meet the wider team and get down to business."
Team owner of Manor, Stephen Fitzpatrick who welcomed Ryan to the team also confirmed the departure of John Booth and Graeme Lowdon.
"I'm delighted to announce Dave's appointment in the newly created position of Racing Director. He needs no introduction, of course, having spent 34 years within the sport contributing to an incredible tally of race and championship wins.
"Along with our new Mercedes Benz power unit, technical partnership with Williams and recent additions to the design and technical team, Dave's arrival is another important step towards our goal of creating a truly competitive racing team.
"I am also able to confirm that John Booth and Graeme Lowdon will be leaving the team at the end of the current season.
"I have the utmost respect for them as individuals and for all they have achieved, both with this team and in their long careers in Motorsport, and I would like to take this opportunity to thank them for their hard work and dedication during this season in particular.
"Like every great story, there comes a time to start a new chapter."