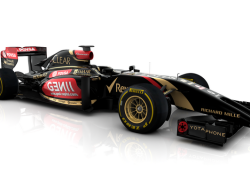 Lotus today released an image of their 2014 challenger – the E22 just as the launch of  McLaren's MP4-29 got underway.
While all eyes were on Woking, the Enstone based team decided to steal a little of the limelight in the wake of the announcement of team boss Eric Boullier's departure. The team announced earlier today that Boullier will be replaced by Gerard Lopez and the Frenchman is expected to be headed for McLaren.
Lotus' image of the E22 reveals a two-pronged, tusk-like solution to the front nose tip height regulations where other teams so far have revealed anteater-like / finger solutions.
Despite the surprise rendered E22 image from Lotus, it has already been confirmed that they will not be present at the first pre-season test at Jerez and will instead make its debut in Bahrain next month.