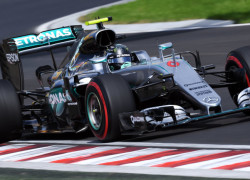 Mercedes' Nico Rosberg was fastest by just 0.072 in the 2nd free practice session for the Japanese Grand Prix at Suzuka.
Rosberg set a best time of 1:32.250 on his first run on the soft tyre for the qualifying simulation. Lewis Hamilton was just a whisker off with a 1:32.322 after dropping some time in the middle sector on his flying lap.
Rosberg had a bit of a scare at the start of the session when venturing out on track. While he was preparing for a practice start at the end of the pit lane smoke could be seen pouring out the back of his car. But as we've seen with Mercedes this is a usual event. What made this a bit worrying was that it was quite a bit of smoke.
Ferrari's Kimi Raikkonen was 3rd fastest 0.323s off the pace with a 1:32.573. Sebastian Vettel who was one of the first drivers to venture out on the soft tyres set a time of 1:33.103 to place him 5th fastest. While it looked like a quick lap the sector timed showed that Vettel lost time in the final sector.
Max Verstappen was 4th fastest for Red Bull ahead of Vettel and the Force India pair of Sergio Perez and Nico Hulkenberg in in 6th and 7th respectively.
Fernando Alonso showed some good pace finishing 8th fastest with a best time of 1:33.895 ahead of Williams' Valtteri Bottas in 9th and Carlos Sainz
There were a few spins and offs during the session. Kevin Magnussen had a little lock up early in the session into the hair pin sending his Renault into the gravel and just narrowly missing the barrier. He was able to get the car rotated and pointing towards the track and managed to escape the barriers.
Toro Rosso's Daniil Kvyat had a moment out of the final corner loosing the rear of car and pirouetted down the pit straight. He was able to avoid the barriers and completed the session without any further issues.
Esteban Gutierrez's session was shortened after stopping his Haas just before the Degners. Romain Grosjean was quite unimpressed with his car with brake issues throughout the session. After being told to keep the radio chatter to a minimum regarding the shortfalls of the car Grosjean had to make his frustration heard once again. "I've got some news. The brakes are still shit," he said on one of his runs.
Mercedes seem to have the upper hand in the long runs and it seems that they may have a some pace stored away in case of an emergency. Red Bull are not that far off the pace with Ferrari trailing.
Times for Free Practice 2
| | | | | | |
| --- | --- | --- | --- | --- | --- |
| Pos. | Driver | Team | Best Time | Gap | Laps |
| 1 | Nico Rosberg | Mercedes | 1:32.250 | – | 35 |
| 2 | Lewis Hamilton | Mercedes | 1:32.322 | +0.072 | 35 |
| 3 | Kimi Raikkonen | Ferrari | 1:32.573 | +0.323 | 26 |
| 4 | Max Verstappen | Red Bull | 1:33.061 | +0.811 | 29 |
| 5 | Sebastian Vettel | Ferrari | 1:33.103 | +0.853 | 34 |
| 6 | Sergio Perez | Force India | 1:33.570 | +1.320 | 37 |
| 7 | Nico Hulkenberg | Force India | 1:33.873 | +1.623 | 35 |
| 8 | Fernando Alonso | McLaren | 1:33.985 | +1.735 | 37 |
| 9 | Valtteri Bottas | Williams | 1:34.028 | +1.778 | 33 |
| 10 | Carlos Sainz | Toro Rosso | 1:34.086 | +1.836 | 33 |
| 11 | Felipe Massa | Williams | 1:34.127 | +1.877 | 33 |
| 12 | Daniel Ricciardo | Red Bull | 1:34.150 | +1.900 | 29 |
| 13 | Romain Grosjean | Haas | 1:34.241 | +1.991 | 33 |
| 14 | Daniil Kvyat | Toro Rosso | 1:34.305 | +2.055 | 27 |
| 15 | Kevin Magnussen | Renault | 1:34.339 | +2.089 | 36 |
| 16 | Jenson Button | McLaren | 1:34.398 | +2.148 | 29 |
| 17 | Esteban Gutierrez | Haas | 1:34.643 | +2.393 | 11 |
| 18 | Jolyon Palmer | Renault | 1:34.760 | +2.510 | 40 |
| 19 | Felipe Nasr | Sauber | 1:34.824 | +2.574 | 26 |
| 20 | Pascal Wehrlein | Manor | 1:35.292 | +3.042 | 30 |
| 21 | Esteban Ocon | Manor | 1:35.400 | +3.150 | 37 |
| 22 | Marcus Ericsson | Sauber | 1:36.318 | +4.068 | 26 |
Photo Credit Mercedes AMG Petronas Formula 1 Team