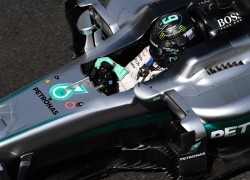 Nico Rosberg topped the timing sheets at the end of the first free practice session for the Japanese grand prix.
The 90 minute session got underway in brilliant sunshine with a track temperature hovering in the low 30 degrees Celsius range. Championship leader Rosberg set a quickest time of 1:32:431 on the yellow-walled soft tyres as teammate Lewis Hamilton set a 1:32:646 some .292 off first place.
The two Ferrari's of Sebastian Vettel and Kimi Raikkonen completed the top four but a scruffy lap from Vettel left him one second off the front-running Mercedes pace. Daniel Ricciardo and Max Verstappen were fifth and sixth quickest while the Force India pairing of Nico Hulkenberg and Sergio Perez ended in the session in seventh and eighth respectively. McLaren's Fernando Alonso and Williams' Valtteri Bottas rounded out the top then.
Spaniard Alonso had an off early in the session when he lost the rear-end of his McLaren in the Spoon Curve. The former champion clouted the barrier on the outside of the corner quite hard with the rear of the car and required a rear-wing and floor change. The only other incident came in the form of Romain Grosjean who veered off the circuit at Degner two. The Haas F1 driver complained of brakes over the radio.
Final Free Practice 1 Standings: