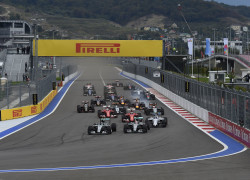 The FIA and Formula 1 engine manufacturers have agreed to in season engine development for 2016.
The current rules state that the engines need to be homologated before the end of February next year and that no further engine development can take place throughout the season which is basically what happened in 2014.
At a meeting in Geneva by the bosses of Ferrari, Renault, Mercedes and Honda, together with members of the FIA including FIA President Jean Todt an agreement was reached not to tighten the regulation for 2016.
This decision will be welcomed by Renault who have been playing catch-up with their engine development from 2014. Honda will also welcome the decision considering the tough first season they've been experiencing so far this season.
The rule to allow only 1st tier engines to customer teams was also dropped and it was agreed that manufacturers will be able to provide 2nd tier engines to customers.
These proposals, however, still need to be agreed upon at the F1 Commission and would require unanimous support, which is expected to happen. It will then be taken to the World Motorsport Council in December and it is expected that it will also pass without any issues.
Red Bull are in curious position with this new proposal. They have been pushing for 1st tier engines from Mercedes and Ferrari this new proposal rules it out for them. Having said that, a 2015 Mercedes engine is still better than anything on the grid at the moment but would they go for it or will the still push for 1st tier engines?
Toro Rosso on the other hand will have to take the 2015 Ferrari engine but should get the 2016 engine further on into the 2016 season ableit a 2nd tier one.