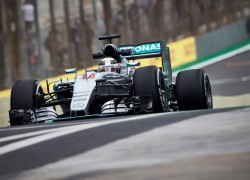 Formula One World Champion Lewis Hamilton topped the timesheets ahead of Mercedes team mate Nico Rosberg for the final Brazil practice session ahead of this weekend's grand prix, despite a few issues with his car.
20 minutes into the Brazil practice session, Hamilton's car stopped on the Interlagos circuit at Bico de Pato while the Briton complained of a gearbox issue before heading back to the pits. He then spun his Mercedes heading in to Mergulho and was forced to abandon his lap.
Hamilton returned to circuit again on Pirelli Option tyres to set a top Brazil practice time of 1:12.070, 0.123s clear of Rosberg.
The Mercedes duo proved once again to be leagues ahead of the rest of the field with Ferrari's Sebastian Vettel's Brazil practice session time almost seven-tenths of a second off Hamilton's pace.
Kimi Raikkonen hit the fourth spot ahead of fellow Finn Valtteri Bottas – albeit over a second off the pace – with Nico Hulkenberg, Romain Grosjean, Sergio Perez and Pastor Maldonado following suit for their Force India and Lotus F1 teams.
Maldonado faced a bit of a scare during the final moments of the final Brazil practice session when his Lotus went wide through the super fast Ferradura corner.
Young Max Verstappen rounded out the top ten in his Scuderia Toro Rosso only 0.024s faster than Daniel Ricciardo. Ricciardo of course faces a 10 place grid penalty for the race, after changing his to the upgraded Renault engine.
Felipe Massa brought his Williams home 12th fastest, just ahead of the second Red Bull driver Daniil Kvyat in thirteenth not too far off Ricciardo's time, despite not also changing to the upgraded engine.
McLaren Honda's Fernando Alonso finished 14th with his British team mate finishing down in 18th with the not-so-unusual-or-unexpected complaints of understeer.
Carlos Sainz Jr was 15th behind Alonso with the Sauber duo of Marcus Ericcson and Felipe Nasr lining up behind him.
That leaves us with the two Manor Marussia drivers Will Stevens and Alexander Rossi who rounded out the final Brazil practice runners.
We'll be back just before 18h00 GMT+2 for the Brazilian Grand Prix qualifying session, hoping for a cracker! Do join us on Twitter @F1_Madness for live chat, news and commentary throughout.