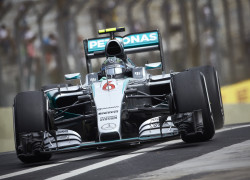 Nico Rosberg has secured pole position for Mercedes team ahead of the 2015 Brazilian grand prix.
The first part of the hour-long qualifying session was highlighted by yet another issue for McLaren's Fernando Alonso. The Spaniard grinded to a halt in the first session and them comically continued to sun himself at the side of the track.
Whilst the sister McLaren of Jenson Button also failed to advance to the next session Alexander Rossi once against bested his Manor teammate Will Stevens in their qualifying battle. Surprisingly, the Lotus of Pastor Maldonado also failed to advance beyond sixteenth place.
The second of the three sessions saw Lotus driver Romain Grosjean fail to advance to the top ten shoot-out after flat-spotting his yellow-marked soft tyres. An incident between the two Brazilian drivers Felipe Nasr and Felipe Massa is still being investigated. Massa, in the Williams, had to take avoiding action of the Sauber of Felipe Nasr who was driving, quite slowly, on the racing line. A penalty seems inevitable for the younger Brazilian.
The final shoot-out commenced with Rosberg setting the quickest lap from Hamilton with Ferrari's Sebastian Vettel rounding out the top three. The second run saw an improvement of roughly two-and-a-half tenths from Rosberg and whilst Hamilton came within less than a tenth it wasn't enough to deny his teammate.
Sebastian Vettel secured third on the grid and will share the second row with his Ferrari teammate Kimi Raikkonen after Valtteri Bottas' penalty for overtaking under the red flag is instituted.
Provisional Qualifying Standings: