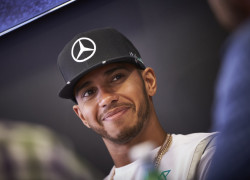 Mercedes' Lewis Hamilton has confirmed that he will take a new engine at this weekends Belgian Grand Prix.
After suffering reliability issues early in the season with his Mercedes engine, Hamilton has now confirmed that he will get a new engine.
Under the new regulations drivers are allowed to use 5 of each of the power unit components a season. Hamilton is currently on his 5th turbo, MGU-H which means that if any of those components are replaced he will incur a grid penalty.
Speaking to reporters on Thursday Hamilton said that he will take the grid penalty this weekend.
"As far as I am aware we will be taking the penalty this weekend," said Hamilton to reporters.
"Naturally we already discussed engine penalties before, that will come into play for sure but I will do everything I can to minimise the impact I have.
"Otherwise, beyond that penalty that I will eventually take, I think I will be able to continue with the momentum I had before the break."