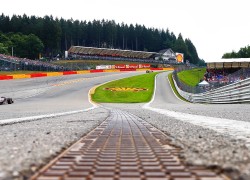 There aren't many tracks that when mentioned bring up the word "legendary". The Circuit Spa-Francorchamps is one of them. Formula 1 is back for Round 13 of the Formula 1 World Championship and the 2016 installment of the Belgian Grand Prix.
The Spa-Francorchamps circuit, over the years, has undergone many revisions. From it's original 14.9 km layout it has been revised and shortened to the modern day Spa layout of 7.004 km with the new bus stop chicane.
The current lap record around Spa belongs to Sebastian Vettel who set the time of 1:47.263 in 2009. With cars going fast this season there's always the possibility that we may see times tumble again.
Going into the summer break Mercedes were in a very strong position with both their drivers topping the drivers championship. Lewis Hamilton winning the German Grand Prix before the break put him 19 points ahead of Nico Rosberg in 2nd place. It's expected that Mercedes will continue their run of form and will once again stamp their authority this weekend.
The internal battle between the two Mercedes team mates still rages on and the fight for the championship looks like it will go to the end of the season. Hamilton will have to take a grid penalty for an engine change after early season reliability issues means that he's on his 5th engine for the season. It's widely tipped that Hamilto will take his 6th engine at the Italian Grand Prix. For Rosberg, that will be his chance to close the gap or move ahead of Hamilton in the championship.
Red Bull went into the summer break ahead of Ferrari in the constructors standings. Their ultimate goal at the end of the season is to finish ahead of Ferrari in the standing and possibly get one of their drivers to finish ahead of one of the Ferrari drivers in the drivers standings.
Ferrari looked like a lost team ahead of the summer break. They've had time to look inward and find the problem with their car and to fix those issues. It's not going to be easy for them coming out of this summer break.
Down in the mid-field, there are two battles worth noting. The battle for 4th between Williams and Force India and the battle for 6th between Toro Rosso and McLaren.
With some financial backing behind them, Sauber have brought some new parts for their car and are hoping for some improved form for the rest of the season. Manor, who are fully aware of this fact, are preparing themselves for a resurgence from the Hinwil based team.
The weather for this weekend is expected to be hot and clear. Temperatures will hover around the high 20s and low 30s. Some thunderstorms are forecast for Sunday.