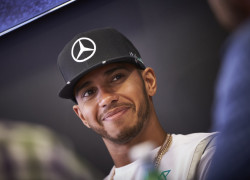 It'll be fair to say that Lewis Hamilton was not at all happy following his retirement from the Malaysian Grand Prix. The British driver made a few very controversial comments following the race and prompted questions and investigations into why the reliability of his car has been so poor this season while reliability was not an issue for the seven other Mercedes powered cars on the F1 grid.
The three-time world champion demaded answers from the Mercedes AMG Petronas team – he wants to know why he is suffering the series of reliability issues that are hampering his fight for the world title against his team-mate Nico Rosberg. Hamilton went as far as saying that it feels as though "someone or something does not want me to win this season".
Following his comments, Hamilton has however explained that he still has full faith and trust in his team especially considering the amount of work that has been put in over the past couple of years.
"Honestly, you've got to understand it from my point of view. On one side, we've had the most incredible success these past two years, for which I'm so grateful. These guys work so hard and we're all feeling the pain right now. When you get out of the car – that feeling you have after leading the race and then your car fails – it's pretty hard to say positive things at the time."
"As I said in the TV interviews, Mercedes have built 43 engines or however many it might be with the extra three I've had, and I have happened to have most of, if not all of, the failures. So, that is definitely tough to take. But I have 100% confidence in these guys."
Hamilton also expressed that the reliability issues does not change how he feels about the team and made sure everyone understood that it was thanks to the Mercedes team that he won the last two world championships.
"It's my fourth year with them now and the guys in the garage and back at the factories – I have 100% faith in them. I love it here and without them I would not have won these two Championships."
"While the struggle is real right now and has been all year, I honestly feel that it's a test of my will, my spirit and who I am as a person to get back in and keep fighting it head on. It's not how you fall, it's how you get back up. That applies not just to me but to the guys as well. I saw tears in the eyes of my mechanics so I know that we all bear the pain. But, as I said, it's how we re-group. We have to keep in mind what we've already built."
"While in the short term it doesn't look good and for the long-term this year it might not be so good, there are still lots of positives. There's still five races to go and if I can perform the way I performed this weekend there's still everything to play for. We will learn."
"The guys will take the engine back and they'll understand what happened. Every time we've had engine issues they've gone away and found out why. It puts us potentially in a better position to make sure it doesn't happen next year. All I can do is what I've done this weekend."
Lewis Hamilton Photo Credit: Mercedes AMG Petronas