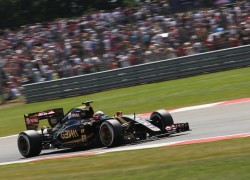 Lotus' Romain Grosjean feels that Red Bull's Daniel Ricciardo is to blame for his premature exit on the opening lap of the British Grand Prix race.
Ricciardo made contact with Grosjean going into Turn 3. This sent Grosjean into the side of his team mate Pastor Maldonado. Both Maldonado and Ricciardo were able to continue for a while until both of them had to retire from the race. Maldonado due to damage sustained in the crash and Ricciardo due to an electrical problem.
"There were a lot of cars into turn three," said the Frenchman.
"Daniel came in hard and hit me, and I collided with the Sauber on the outside, breaking the front wing and it created a puncture.
"The car went left and I hit Pastor which was a shame."
"That was a very short race for the team and I feel for everyone here at Silverstone and at Enstone," he said.
"No-one likes to end a Grand Prix like that as so much effort goes into making and preparing the cars."
Grosjean's crash also caused the retirement of McLaren's Jenson Button after his team-mate Fernando Alonso, while trying to avoid the colliding Lotus', had half a spin and made contact with Button's left sidepod which shut off the McLaren's engine immediately.
All the drivers that were involved in the first lap incident were called to the stewards after the race. The stewards decided that no one was responsible for the incident an no penalties were levied.
Deputy Team Principal at Lotus Federico Gastaldi has described the teams home race as frustrating.
"Motorsport is sometimes a cruel sport and we saw that today," he said.
"There was nothing either of our drivers could have done to avoid the first lap incident and that was our race over.
"It's been a frustrating home weekend for us."
"We weren't able to show the pace we have in the car, we've suffered from a few niggles, then it was a very early bath for both our guys."