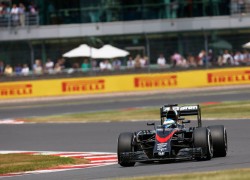 After collecting his first championship point for the 2015 F1 Season, McLaren driver Fernando Alonso feels that the point will boost morale in the team.
It was not the best race start for the Spaniard when, at Turn 3, he spun to avoid making contact with the two Lotus' ahead of him who had come together. In doing so, he T-boned his team mate Jenson Button. Button's engine shut off immediately after contact with Alonso's front wing and had to retire from the race. Alonso limped back to the pits for a wing change and new tyres. He then kept his head down and continued racing till the rain fell.
Alonso was one of the first few drivers to make the switch to intermediate tyres. At the time the track was mostly dry and was only wet in sector 2. Alonso, running in 11th, stuck with it and gained a place when Sauber's Marcus Ericsson ahead of him changed from intermediate tyres to slick tyres and back to intermediate tyres. From then Alonso kept it on the track to take the final points paying position, 10th.
"It's not the best of results, but 10th position helps to motivate everyone," commented Alonso after the race.
"The whole team is incredibly focused – they've been working day and night to improve the car – and we all know this is a long-term project, and there are no magic solutions, but to get a decent result, and to put some points on the table, is always important.
Alonso felt that the two Lotus drivers ahead of him were being too aggressive and felt the contact between the two was unnecessary.
"The start was unbelievable," he said.
"It was a big mess as we arrived at Turn Three. The two Lotus drivers were far too aggressive, and they touched each other; in avoiding them, I had a half-spin, and touched Jenson.
"There were a lot of retirements, and little common sense on display."
Although a tough 10th place finish is all McLaren could do today. Alonso feels McLaren took a step forward today.
"Still, we know we're improving, and today has been a good day for morale."