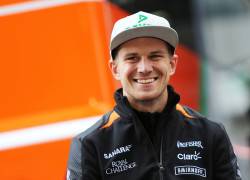 The Sahara Force India Formula 1 team has announced that Nico Hulkenberg has been retained until at least the end of the 2017 F1 season.
The confirmation by Force India brings further stability to the F1 driver market after Ferrari confirmed Kimi Raikkonen for 2016.
"I'm very pleased to finalise and announce my plans for the future," said Hulkenberg
"I know this team inside out and I feel at home here so it made perfect sense to make a long-term commitment.
"The progress the team has shown over the last two years has really impressed me and gives me confidence for the future.
"It's a great group of people who are hungry for success and want to keep improving year-on-year. I think we have the important things in place going forward and I want to continue growing with this team as we move even further up the grid."
Force India Team Boss, Vijay Mallya added: "I make no secret of being one of Nico's biggest fans and so it's fantastic to confirm him as our driver for the next couple of seasons.
"He has spent almost four years with us already and in that time we've seen him develop into one of the best racing drivers in the world.
"Nico has the speed, the technical knowledge and the maturity to help us achieve some great results in the years ahead. We will do everything we can to continue delivering a car to match his talent."
Photo credit: Sahara Force India Formula  One Team