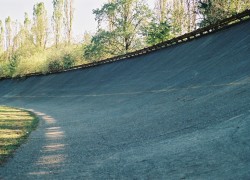 Formula 1 rounds out it's European leg at the magnificent Monza for round 12 of the Formula 1 World Championship and the Italian Grand Prix.
Built in 1922 the Autodromo Nazionale Monza is one of the oldest circuits on the F1 calendar. The original track consisted of 4.5km looped track and a 5.5km road track which has kept most of the layout till today. The high-speed oval track with the two banked curves was added during the circuit revamp in 1954. The high speed oval hosted its final race in 1969 with the 100km of Monza. A few high speed record attempts were carried out on the banked circuit but it is now left to history and remains unused.
The modern 5.793km track layout is much simpler and a little slower than previous iterations. The track is characterized by long straights and tight chicanes which place huge amounts of stress on the brakes and the tyres. Almost 75% of the lap is spent at full throttle. With the emphasis on top end speed cars are fitted with very skinny rear wings with the shallowest of angles on them. This puts the demand back on the tyres for mechanical grip out of the slow corners.
Lap time is usually gained or lost at Turn 1, where if you get your braking right and your line through the first chicane spot on, you can carry that momentum though till the end. Get it wrong however, and you may loose a lot of time.
With this being Ferrari's home race all eyes will be on them for a good performance. But Ferrari Team Principal Maurizio Arrivabene has cautioned that Ferrari may not perform as well as they would like, despite some engine upgrades.
A fast circuit will suit the Williams and to some extent, Lotus and Force India who are all expecting a good weekend. McLaren are expecting another difficult weekend. Coming off the back of a very difficult weekend at the Belgian Grand Prix, Racing Director Eric Boullier says that they can expect much of the same.
This weekend we'll follow much of the usual times as is the case for all the European leg races. All times are GMT+2
Free Practice 1: Friday 10:00
Free Practice 2: Friday 14:00
Free Practice 3: Saturday 11:00
Qualifying: Saturday 14:00
Race: Sunday 14:00