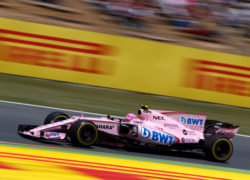 The Sahara Force India Formula One team has been handed a €25 000 suspended fine for not complying with the new interpretation of Article 9.2 of the FIA Sporting Regulations.
The stewards handed down the fine which was suspended for 12months after Force India agreed to work with the FIA stewards to bring the team in-line with the new interpretation.
The fine was suspended because Force India argued three mitigating circumstances which the FIA accepted. They were:
The Competitor was not challenged about the numbers prior to the race
The numbers (size, colour and location) were not changed during the event
The Competitor has offered to work with the FIA and rectify the situation immediately
After the Russian Grand Prix the teams were instructed to increase the size of the car numbers and driver name graphics to make it easier for fans to identify. Many teams at the Spanish Grand Prix had the three letter driver abbreviation and car number or some variation thereof featuring on the shark fin or on the engine cover, along the side of the air inlet and the forward facing section of the nose.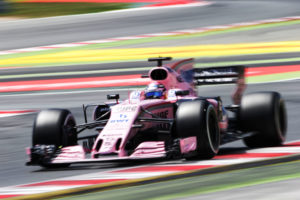 It was different for Force India as most of the real estate on their engine cover, shark fin and nose has been taken up by sponsor logos with their main sponsor enjoying complete coverage on the cars shark fin. The team did however, increase the size of the numbering on their cars in all areas but it was a bit more difficult to see if one was in line with the car. The car numbers on the nose were not on the forward facing section of the nose but rather on the upward facing section and the numbering on the side was placed on the upper section of the side pod.
Speaking to Motorsport.com Force India Sporting Director Andy Stevenson said that they felt they were in full compliance with the regulations. They had presented their interpretation to the FIA at the Russian Grand Prix and no issues were raised by the FIA. Subsequent to that, the car had passed scruitineering without any objections ahead of the race weekend.
The team will work with the FIA to rectify the problem before the Monaco Grand Prix in two weeks time.
Photo credit: Sahara Force India Formula One Team