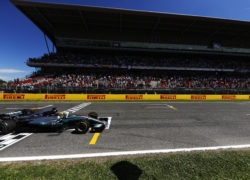 For eighty-eight percent of the time all races around the circuit de Catalunya have been won from pole position. While this stat was re-affirmed in 2017 by pole sitter Lewis Hamilton's victory it was nearly as straightforward as that.
Lewis Hamilton and Mercedes were made to work hard for all of the sixty-six laps of the Spanish grand prix. A clever switch on tyre strategy, which had the Brit on the quicker tyre at the end of the race, provided the opportunity for victory, which Hamilton translated into the 55th win of his career.
The Ferrari of Sebastian Vettel dominated the first half of the grand prix but a combination of Valtteri Bottas serving as a blocker for Hamilton and a slow call on strategy, cost him the top step of the podium. Ultimately the pair finished less than four seconds apart. It was nearly as satisfying an afternoon for their teammates. Kimi Raikkonen retired on lap one with a broken steering-arm following clash into turn one between Bottas, Raikkonen, and Verstappen. The incident also brought Verstappen's race to an end was, rightly, deemed to be a racing incident. Later in the piece Bottas Mercedes engine expired putting him out of the race. Though no fault of their own, Raikkonen and Bottas' retirements could be significant. It could begin the process of Ferrari and Mercedes needing to discuss which driver to back in the fight for championship. In a battle that appears to be as close as the 2017 is there isn't much more time before this call will need to be made.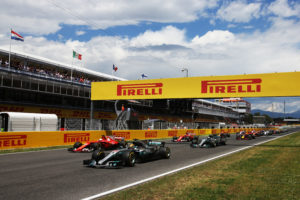 The retirements meant that Red Bull's Daniel Ricciardo finished third but it was a day that the Austrian team will want to forget as soon as possible. The expectation that Red Bull's highly anticipated upgrade package would push them towards the two front running teams was emphatically crushed by the fact that Ricciardo finished some seventy-five seconds adrift. This margin is especially worrying considering that the Spanish circuit is predominantly focused on aerodynamics. Nevertheless, the characteristics of the next grand prix in Monaco should alleviate their pain somewhat. But it's still unlikely that they'll trouble Ferrari or Mercedes should all things be equal.
Force India continued their impressive run with yet another double points finish. Sergio Perez in fourth and Esteban Ocon in fifth underlined what a stellar job this privateer team is doing with, likely, a quarter of the budget of the bigwigs. Renault too is continuing to make progress as Nico Hulkenberg finished sixth overall. Spanish driver Carlos Sainz finished seventh in front of his home crowd in the Toro Rosso while Pascal Wehrlein upped his stock in Formula 1 with a fine eighth place finish in a Sauber which has been difficult to drive this year. Sauber's point score now means that McLaren are the only team with zero points on the board.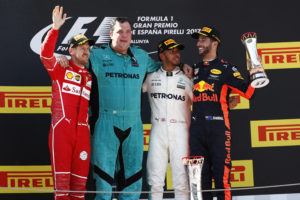 Dannil Kvyat came from twentieth on the grid to ninth while Romain Grosjean snapped up the final point in tenth for Haas. Perfomance-wise it was a better weekend for McLaren but Fernando Alonso could still only manage twelfth place by the chequered flag.
Notably nearly all the drivers remarked on the physicality of the race and how they were on the limit for all of the 66 laps. This is in stark contrast to last year where drivers were cruising around five to six seconds off the pace in order to conserve their tyres. A tip of the hat then to the FOM, FIA, and Pirelli doing their bit to provide a more intense experience for drivers and spectators alike.
One of the most fascinating developments to emerge from the weekend is that despite the fact that tens of millions of rands have been spent on upgrade packages and countless man-hours have been invested the battle between Mercedes and Ferrari appear to be as close as ever. For fans it couldn't be better news as it means an enthralling season in prospect.