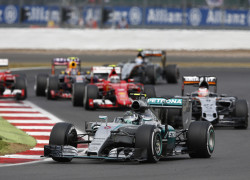 The FIA will warn teams about their pit lane conduct and the consequences of carrying out dummy pit stops in Hungary after Mercedes attempted to fool Williams during the British Grand Prix.
On lap 14 at Silverstone Mercedes mechanics were sent into the pit lane while the Williams drivers were leading the race. Neither of the Mercedes cars stopped. Mercedes team boss Toto Wolff acknowledged after the race that "it was a bit of a game that didn't work". One of his drivers, Lewis Hamilton, did go on to win the race though.
F1 race director Charlie Whiting says that he will warn teams at the Hungarian GP later this month "that we will want to see and hear evidence that they were actually intending to stop." Whiting wants to ensure taht a precedent is not set.
Article 23.11 of the Sporting Regulations states: "Team personnel are only allowed in the pit lane immediately before they are required to work on a car and must withdraw as soon as the work is complete." No action was taken against Mercedes during or after the race.
Whiting spoke to the BBC saying, "Going into the pit lane like this, ie, for no valid reason, is not allowed but the difficulty would be proving it was a clear breach. I will talk to all the teams – at the next race in Hungary – about this and warn them."
Whiting added that Mercedes was not called in to explain its dummy pit stop because it was impossible to judge at the time whether the team intended to stop or not.
"At the time, what Mercedes did was OK as no-one knew that they were not actually going to stop. In fact we still don't really know. However, in view of the fact that they were alleged to have said that it was a 'dummy' pit stop, they may have put their foot in it rather."
Photo credit: Mercedes AMG Petronas