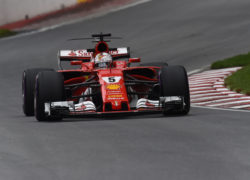 Sebastian Vettel lead a Ferrari 1-2 finish for the final free practice session for Canadian Grand Prix ahead of qualifying later this afternoon.
Vettel set the pace earlier in the session with his lap time continuing to get faster. Raikkonen kept close to Vettel's times but after his final timed runs on the ultra soft finished the session 2nd fastest 0.292s off Vettel's 1:12.572.
Hamilton finished the session 3rd fastest with his fastest time of 1:12.926, was 0.354s off the pace. Mercedes seemed to struggle with tyre warm up with Hamilton and Bottas going for 2-lap warm up. Bottas was 5th fastest at the end of the session with Max Verstappen in the Red Bull between the Mercedes in 4th.
Nico Hulkenberg showed some good one lap pace to put his Renault into 6th fastest ahead of the Williams of Felipe Massa in 7th.
Daniel Ricciardo who complete the most laps from all the drivers this session was keen to maximize his track time after technical issues limited his track time yesterday. He finished 8th fastest 0.973s off the pace.
Esteban Ocon continued to impress finishing 9th fastest beating his team mate Sergio Perez who could only manage 13th fastest.
Carlos Sainz finished off the top 10 just a little over one-second off the pace.
From the outset is looks as if Ferrari have the upper hand going into qualifying and a Ferrari front row lockout seems likely. Mercedes do look like they're holding back on some pace and despite being three-tenths down, they may just edge Ferrari come Q3 when they unleash their Q3 engine mode.