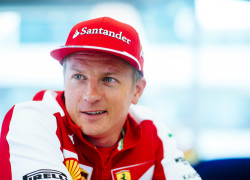 It was Mercedes' Lewis Hamilton and Ferrari's Kimi Raikkonen who ruled the practice sessions for today.
Hamilton edged out Sebastian Vettel to set the fastest time in the first free practice session ahead of this weekend's Canadian Grand Prix. The three-time world champ set the benchmark at 1:13.809 – 0.198s ahead of Vettel. – on a very green Circuit Gilles Villeneuve.
Valterri Bottas finished third fastest with the second Ferrari of Kimi Raikkonen finishing in the 4th spot. The two Force Indias put in a strong start to their weekend with Sergio Perez and Esteban Ocon finishing the session 5th and 6th fastest.
Stoffel Vandoorne managed to complete an entire session in his McLaren-Honda but alas, it was woe again for Fernando Alonso who referred to the time spent on the session as "wasted". After just 13 laps Alonso's return to Formula One from the Indy500 was cut short. Following a loss of hydraulic pressure, Alonso was forced to pull over at Turn 10 where he promptly got out of his car and chucked his headrest from the car in frustration.
The second practice session saw Kimi Raikkonen clocking the fastest time with a 1:12.953 on the ultra-soft tyres – a good 0.215s clear of Hamilton. The Finn showed consistent pace on the purple tyres and had a far better time than team-mate Vettel who complained about being stuck behind Hamilton after he'd spun off on his first long run of the session. Hamilton appeared to be randomly backing off and also making mistakes which left Vettel a little less than happy. The German came in third quickest, 0.265s off Raikkonen's time, and 0.050s behind Hamilton. Valtteri Bottas predictably rounded out the top four drivers.
Max Verstappen stopped out on track with a gearbox issue, interrupting the session with red flags. It was not a fun day for the Red Bull team since Ricciardo only managed to put in 8 laps thanks to an engine issue.
McLaren managed to get Alonso out for a late flying lap following his hydraulics issue. The Spaniard finished seventh fastest behind Felipe Massa in 6th. Of course he was on low fuel while everyone else was doing long runs so it's hardly representative of what we can expect for the rest of the weekend.
The Force Indias finished 8th and 10th, with Daniil Kvyat splitting the two. Romain Grosjean finished 11th quickest, ahead of Nico Hulkenberg's Renault, Carlos Sainz's Toro Rosso and Haas teammate Kevin Magnussen.
Ricciardo was 15th fastest ahead of Renault's Jolyon Palmer. Lance Stroll could only manage 17th fastest at his first home grand prix – 1.177s off teammate Massa's time. Marcus Ericsson, Stoffel Vandoorne, and Pascal Wehrlein rounded out the bottom of the timesheets.