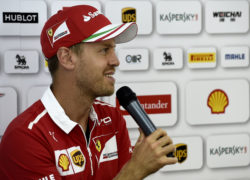 Ferrari has announced that Sebastian Vettel will remain with the team until the end of the 2020 F1 season.
The news rules out a switch to Mercedes in the near future and this was also confirmed by Niki Lauda during the third practice session for the Belgian Grand Prix where Niki said, "He has no reason to move, they are competitive, he is winning. We stopped talks with him months ago.
The statement issued by Ferrari confirms that Vettel has extended his technical and racing agreement with the team.
It's very likely that Ferrari, Mercedes, and Red Bull will retain the same driver line-ups for the 2018 F1 season. At the moment, we're only waiting on an announcement from Mercedes around Valtteri Bottas' future.