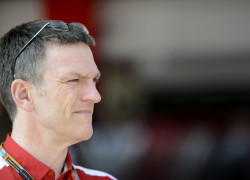 After speculation about his future at Maranello, Ferrari have announced that they will part ways with Technical Director James Allison with immediate effect.
Following Allison's departure at Ferrari Mattia Binotto will take on the role of Chief Technical Officer.
Allison's future at Ferrari has been in doubt for the past few weeks after a lacklustre 1st half of the season for Ferrari. Ferrari Chairman Sergio Marchionne had hinted that changes needed to be made. Allison's departure looks like one of them
"During the years I spent at Ferrari, at two different stages and covering different roles, I could get to know and appreciate the value of the team and of the people, women and men, which are part of it," said Allison.
"I want to thank them all for the great professional and human experience we shared. I wish everybody a happy future with lots of success."
Maurizio Arrivabene, Team Principal of Scuderia Ferrari, commented:
"The Team would like to thank James for his commitment and sacrifice during the time spent together, and wishes him success and serenity for his future endeavors."
But was Allison pushed or did he jump? It may not be that simple. He clearly was doing very well at Ferrari with him in the oversight role as Technical Director brought some sort of synergy to the team. The improvement in the 2015 season was immediately apparent and the jump in performance in 2016, despite any race wins, does make it look like Ferrari are heading in the right direction.
What may have been the deciding factor was the tragic death of his wife early in the season. Since then, Allison was given the space and time off. He has been traveling between Maranello and Britain to tend to his children and fulfilling his Technical Director duties. Things have certainly not been easy for him and it looks like his decision to leave the team may have been personal.
Photo credit: Scuderia Ferrari Formula One