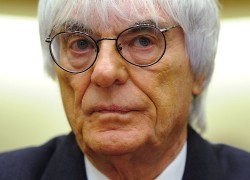 Formula 1 supremo Bernie Ecclestone's mother-in-law has been kidnapped in Brazil and is being held for a ransom of $36.5 million. This is according to reports in Brazilian magazine Veja.
Aparecida Schunk is the mother of Ecclestone's third wife Fabiana Flosi and according to reports, the 67 year old was kidnapped in Sao Paulo on Friday night. No further details have yet been provided and local police are yet to confirm the reports. Ecclestone has also not commented on the reports.
According to Veja, the kidnappers have demanded that the ransom of 120million Reals (approximately $US36.5 million or £28 million) for her return. This is the highest recorded ransom demand for an abduction in Brazil. It is reported that the kidnappers have stipulated the ransom money be paid in pounds sterling and split into four plastic bags.
This is not the first time that Ecclestone has been targeted by kidnappers. A 2012 report indicates that a dental technician was found guilty of threatening to kidnap Ecclestone's daughter, Tamara. He was sentenced to five years in prison.
Ecclestone is estimated to be worth an estimated $3.1bn (£2.4bn).