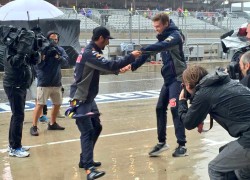 Qualifying for the United States Grand Prix has been postponed until Sunday morning after torrential rain and severe weather conditions put a stop on all action on Saturday.
The start of the qualifying session was delayed repeatedly by 30 minutes at a time before a decision was eventually made at 4pm local time that an attempt the US GP qualifying would be abandoned and postponed to take place before the race on Sunday.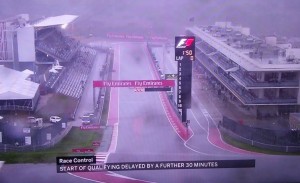 The rescheduled US GP qualifying session will take place on Sunday at 09:00 local time (that'll be 4pm at GMT +2), with the race set to begin at 14:00 local time (9pm at GMT +2).
Drivers and teams attempted to keep the fans entertained during the delay, with Red Bull pair Daniel Ricciardo and Daniil Kvyat dancing in the pit lane. amongst other antics amongst teams, drivers, and die hard fans alike.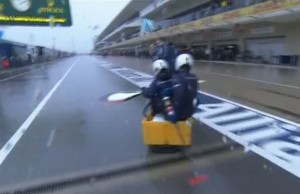 F1 teams occupied themselves with football, storage part races down the pit lane and mexican waves.
As far as the weather forecast goes – we're still expecting rain to continue throughout the night but conditions are expected to improve by Sunday morning, with no wet weather anticipated during the race.
So, a green track awaits us in the morning, with pretty much nothing to go on as far as data goes since we've had so little running so far this weekend.
Die hard fans who stuck it out and braved the weather were rewarded when the FIA opened up the pitlane and allowed them all in! Bet you wish you had been there right now!
The biggest question for the US GP though … will Lewis Hamilton be crowned champion? Let's wait and see.
Join us on Twitter @F1_Madness for live commentary and chat throughout the race.