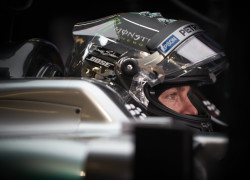 Mercedes driver Nico Rosberg made the most of the wet conditions around the Circuit of the Americas to secure his third consecutive pole position start.
The session which started under cloudy skies and incessant rain got underway with most of the drivers filing out onto the circuit as soon as possible. The first to fall victim to the treacherous conditions was Toro Rosso driver Carlos Sainz who incurred significant damage on the front suspension of hitting the barrier.
The conditions did provide an opportunity for smaller teams to make the most of it however the driveability of the circuit decreased as the second part of qualifying wore on. Neither McLaren driver was able to advance and Jenson Button was soon quoted as saying that conditions were too dangerous to be driving in.
A delay of ten minutes followed the second part of qualifying as the safety car inspected conditions. It became evident, as the pause in action continued, that further running would be unlikely. As it were, a message from Race Control a short while later confirmed that the third and final part of qualifying had been cancelled.
It means that the times from Q2 will be taken as the starting grid for the US grand prix later on today. Nico Rosberg will head his teammate Lewis Hamilton on the front row while Red Bull's drivers Daniel Ricciardo and Daniil Kvyat will line up on the second row. Sebastian Vettel set the fifth fastest time but will be demoted ten places on the grid for an engine change. The same will apply to teammate Kimi Raikkonen who set the eighth fastest time in the session.
It promotes Force India's Sergio Perez into sixth place while Nico Hulkenberg, Felipe Massa, Max Verstappen, and Fernando Alonso will complete the top ten. Weather conditions are expected to improve for the main race.