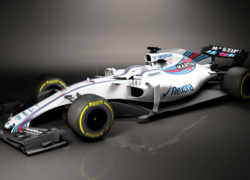 The Williams revival has begun. Late last week the privately owned team revealed the first render of what their 2017 challenger, the FW40, will look like.
As is always the case the first time a new F1 car is unveiled the team does not want to give away any of the major details until they have to. More of the aerodynamic changes will likely been seen on 27 February, the first day of testing.
Nevertheless, some of the highly anticipated 2017 changes are clear to see in the computer rendered image of the Williams. The most striking difference in the wider and lower rear wing. From the angle of this image it isn't easy to distinguish the increase in the width of the car but the smaller, and slightly lower, sidepod air intake are noticeable.
The wider front and rear tyres are also clear to see. The bigger tyres also mean thicker and stronger suspension arms in order to deal with the increased load. Another notable difference is the engine air intake, above the cockpit, which appears significantly bigger than in 2016 and follows a trend set by engine-supplier Mercedes. In this image it appears as if Williams have opted to maintain a similar nose-design to its 2016 car. The chances are that the nose section in this image is a bluff by the team.
The overall impression of the FW40, so named for Williams' 40th anniversary, is a sleek, contained design which doesn't reveal too much of what's likely truly up the team's sleeve.
The Grove based team dominated the news cycle late last week with several announcements. The first was signing of Dirk De Beer as head aerodynamicist. De Beer's most recent post was alongside James Alison, now at Mercedes, at both Ferrari and Lotus. De Beer will commence his new position on March 1st.
"I am extremely pleased to be joining Williams," said De Beer. "The team has an incredible heritage in Formula One, and I'm proud to now be a part of that. I'm looking forward to working with Dave Wheater and the Williams aero team to help continue driving forward the development of the car throughout the season and beyond.
Deputy Team Principal, Claire Williams added: "We're delighted to have someone with Dirk's vast experience joining us. Having spent several years as a Head of Aerodynamics in Formula One, his knowledge and technical expertise will undoubtedly be a great asset to the team in our continued push to restore Williams to the front of the grid."
While it is early days yet for the 2017 season Williams says they've put a lot of work into re-structuring the team but stops short of putting any concrete expectations on the 2017 season. "But we have to move up from fifth," she said.