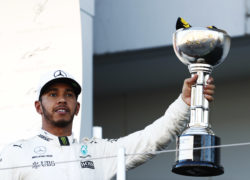 Since the month-long summer break Lewis Hamilton and Mercedes have touched little that hasn't turned to gold. This momentum, which has an eerily familiar complexion to it, has garnered Hamilton victory in Japan and a nearly insurmountable in driver's championship.
After the events in Singapore and Malaysia Sebastian Vettel needed to win the Japanese grand prix in order to get his bid for the world title back on track. With a front row start alongside Hamilton it seemed it he would have the chance to do so. However, yet another reliability issue, this time a spark plug failure, brought the German's race to an abrupt and painfully costly end. And while Vettel was left to console his engineers Hamilton, literally, drove home the advantage by extending his championship lead to 59 points with four races to go.
While last week's race winner Max Verstappen tried his utmost to challenge the Mercedes it was evident that the Red Bull was lacking the final bit of pace to make a genuine bid for the win. Nevertheless, Verstappen's performance once again underlines the Dutchmen's impressive flair and talent and should Renault be able to up the prowess of its power unit it clear to all that Verstappen is ready to fight not only for victories but also for the championship title.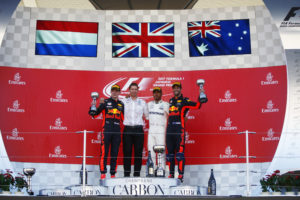 As Verstappen's number 33 Red Bull could only get within two seconds of Hamilton the other Red Bull of Daniel Ricciardo, in third, was able to hold off Valtteri Bottas who recovered to fourth after incurring a gearbox penalty. Similarly, Kimi Raikkonen too had to overcome his own gearbox penalty to finish fifth. Force India took a big step towards securing the mid-field battle with a solid haul of points for Esteban Ocon and Sergio Perez, in sixth and seventh respectively. Haas too would've been happy with their day's work as Kevin Magnussen, in eight, and Romain Grosjean, in ninth delivered a double points finish for the American team. Despite struggling with tyre degradation Williams Felipe Massa snapped up the final point on offer in tenth.
Neutral or not, most would lament Ferrari's run of unreliability and the effect it's had on the championship. The expectation was that the fight between Hamilton and Vettel would carry all the way through to the final round in Abu Dhabi and in so doing would provide the intense battle that spectators have been craving for some time. While the race for the title is by no means done and dusted it has become increasingly difficult for Vettel and Ferrari to get their hands on the coveted trophy.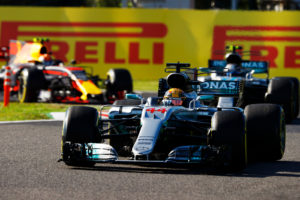 Nevertheless, many a world championship has been won and lost on reliability. Having a fast and competitive car has never, solely, been enough to take the big prize. Reliability is a blatant factor, which has always gone hand-in-hand with the sport.
And while Ferrari are suffering a horrendous run of unreliability credit must be given to Mercedes. Their near flawless reliability is no fluke. Instead it's a testament to how Mercedes is not only on top in terms of car performance and driver management but also all the factors and details that goes into successfully winning a world title. It's a true art to maintain the level of attention to detail on quality control and ensuring that all procedures are perfected in a high pressure environment at Formula 1. For that alone, whether you're a fan or not, Mercedes must be applauded.
All images courtesy of Pirelli Motorsport