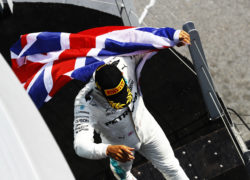 As far as grand prix wins go Lewis Hamilton's win in Canada appeared no more taxing than a leisurely Sunday afternoon drive. Untroubled, the Mercedes driver, for the sixth time in his storied F1 career, reached the chequered flag first on the circuit Gilles Villeneuve.
Hamilton's unchallenged run to the chequered flag was set up by an exquisite qualifying lap on Saturday which netted him a 65th career pole position. It was this premium starting position on the grid, and a steady get-away, which ensured that he stayed clear of the mess of the first few turns. Though championship leader Sebastian Vettel started alongside in second he fell victim to Max Verstappen who rocketed off the line from fifth to second. In his charge to the front, the Red Bull driver clipped Vettel's front-wing prompting the Ferrari driver to pit for a replacement and dropping him to 18th place.
The carnage wasn't only contained the sharp-end of the grid either. Toro Rosso's Carlos Sainz triggered a crash that damaged Romain Grosjean's Haas and ultimately eliminated himself and William's Felipe Massa from the race all on lap one. The incident prompted a short safety-car period on the first lap. The race resumed with Hamilton able to easily pull away from second-placed Max Verstappen. The Dutchman was running comfortably in second until the Red Bull grinded to a halt with a battery failure on lap eleven. It cleared the way for Bottas in the second Mercedes but the Finn was unable to keep pace with Hamilton for the majority of the race.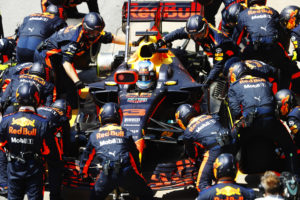 Behind Daniel Ricciardo drove faultlessly to maintain third place ahead of the Force India pair of Sergio Perez and Esteban Ocon. While both the Force India cars sat within striking distance of Ricciardo they were never able to get close enough to attempt an overtake. By now Ferrari had opted for a different strategy that had both Raikkonen and Vettel on the ultrasoft tyre for the last 30-odd laps of the race.
Finally, the Ferrari's were able to run at the pace that was initially expected of them as they closed down on the battle for the final podium spot. However, as Raikkonen closed on the back of fifth-placed Ocon he suffered a brake-by-wire issue that cost him six seconds a lap. Ultimately, the Ferrari was nursed home seventh place. Vettel, without such issues, boldly scythed his way past both the Force India drivers to finish an impressive fourth.
Ferrari's pace didn't simply evaporate into thin air either more so it was the fact that they were unable to run in clean air, which is indicative of how an F1 car's true pace and performance can be nullified if it is running in traffics. It's no secret that all F1 cars are designed to run in clear air and as soon as that air becomes disturbed, by a car in front, the 'dirty' air causes too much instability to run as efficiently as possible. This is an issue, which Ross Brawn, as part of the new F1 brain trust, has earmarked in his quest to make F1 more "raceable."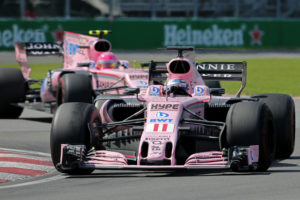 On any other day Force India would've been pleased with a double-points finish but Perez's ignored called to swop positions with teammate Ocon, on significantly fresher tyres, likely cost the team a podium finish. Nevertheless, the pair finished fifth and sixth ahead of an ailing Raikkonen in seventh. Nico Hulkenberg brought his Renault home in a solid eighth ahead of Montreal-native Lance Stroll who scored his first F1 points with a fine ninth-place finish ahead of Haas' Romain Grosjean in tenth.
After the struggles of the Monaco the Canadian grand prix was a must-win for Hamilton and Mercedes. He now trails championship leader Vettel by twelve points ahead of the Baku grand prix in two weeks time.