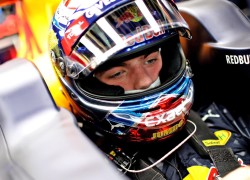 Red Bull's Max Verstappen topped the timing sheets in the first free practice session ahead of Sunday's Baku grand prix.
The 90 minute session got underway in glorious sunshine in the city of Baku. However, the second longest circuit on the grid proved quite slippery and dusty as several drivers endured spins and running wide at various parts on the circuit.
While Verstappen's 1:44:410, on SuperSoft tyres, was quickest enough for P1 it was his Red Bull teammate Daniel Ricciardo, also on the SuperSoft compound, who set the 2nd quickest time overall. The first of the Ferrari's was third in the form of Sebastian Vettel who set a 1:44:967. The first of the Mercedes was Lewis Hamilton who set the 5th quickest time for the session.
There was a lengthy red flag period towards the end of the session at the Force India of Sergio Perez bounced off the wall at Turn 8 after clipping the entry curb. The damage sustained looked quite significant as both the front-right and left-rear corners of the car were torn off. It remains to be seen if the Mexican will make it out at the start of the second free practice later this afternoon.