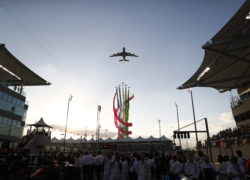 In the blink of an eye the 2017 has flown by and the Abu Dhabi grand prix has brought the curtain down on another Formula 1 season.
The 55 laps around the Yas Marina circuit may not have delivered the most exciting race that's been seen this year. Still, there were several important things to take away from the season finale. Not least of all was the performance of race winner Valtteri Bottas.
It's nearly twelve months ago now that Bottas was catapulted into the Mercedes team following Nico Rosberg's surprise retirement from the sport. The Finn started the season well enough but faded, dramatically, from contention in the second half of the year. His issues centered on the tyres the team said but it was evident that mentally he wasn't on the level of the championship contenders.
Candidly Bottas revealed that he'd finally found 'something' in himself that aided his mental preparation during the grand prix weekend. It came together beautifully for him in Abu Dhabi as he first beat Hamilton to pole and then absorbed everything his four-time champion teammate could throw at him. And he did so on merit too. He won't only take an enormous amount of confidence from this win but also the knowledge that he can beat his teammate in a straight fight. All that remains now is for him to do over an entire season. No pressure Valtteri.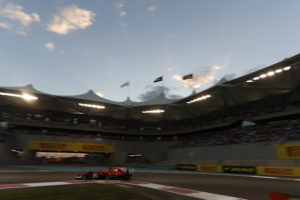 While the two Mercs cruised up front Sebastian Vettel was confined to third some twenty seconds off the pace. It was a rather lackluster performance from Ferrari who never posed any threat to Mercedes in Abu Dhabi. Nevertheless, Vettel finished a remote third and for what it's worth takes second place in the driver's championship standings.
Despite Ferrari's many mistakes and issues in 2017 they seem intent to commit ridiculous strategy calls to the very end. In a move that probably seemed like a good idea at the time a decision was made to under fuel Kimi Raikkonen's car. Ultimately, it meant the Finn was reduced to fuel saving for almost the entire race. Besides the obvious time and focus Ferrari will have to invest in solving their reliability issues it's clear that many other aspects of the team need to be, at the very least, rebuilt.
It wasn't a great day for Red Bull either as the Austrian team's season ended with a bit of a fizzle. While Daniel Ricciardo was forced into retirement with a hydraulic failure Max Verstappen could only finished fifth. In sixth place Nico Hulkenberg ensured that Renault leapfrogs Toro Rosso to finish sixth in the constructor's standings. It's an especially important result considering that Renault will in the region of R170 million for sixth in the standings.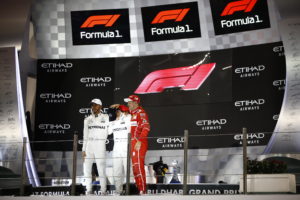 Elsewhere, the two Force India's of Sergio Perez and Esteban Ocon finished seventh and eighth ahead of Fernando Alonso's McLaren in ninth. In the final race of his F1 career Felipe Massa somehow brought his sluggish Williams home in tenth place. While no points are awarded for eleventh place finisher Romain Grosjean the Haas driver delivered a brilliant drive, which a stunning overtake on Lance Stroll. Sauber's Pascal Wehrlein was equally impressive in fourteenth.
Although the season may have officially drawn to a close attention immediately turned to 2018 with the unveiling of a new F1 logo. The white and red logo, in use for the last 23 years, has been replaced with a more modern and dynamic design that adds some much needed freshness. Roll on 2018.
All images courtesy of Pirelli Motorsport