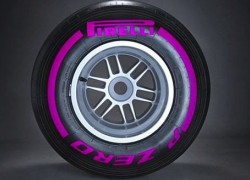 Pirelli's ultrasoft compound tyre has made its debut in the second day of pre-season testing in Spain.
The morning's running was capped by the first-ever glimpsed of purple side-walled ultrasoft Pirelli tyre. It was Red Bull Racing's Daniel Ricciardo who first ventured out on the brand new compound. The Australian excelled to the top of the timing sheets with a time of 1:23:525.
A short while later the Ferrari of Sebastian Vettel emerged from the pitlane also sporting the ultrasoft soft tyres. The German champion smashed the quickest time of Ricciardo by seven tenths of a second and took over the top of the timing sheet with a time of 1:22:810.
The Mercedes of Nico Rosberg remained in the pits as the session winded down towards lunch. Hopefully we'll see what sort of time the mighty Mercedes can achieve on the ultrasoft after lunch.