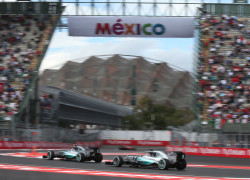 The eyes of the racing world will be on Nico Rosberg this weekend as the Mercedes driver has his first chance to win the driver's title.
It isn't a straightforward chance though. For Rosberg to clinch his first title he'll have to win the race and Lewis Hamilton will have to finish tenth or lower. While it's certainly not impossible [insert image of painful Malaysian engine failure here] it does seem improbable. Many are waiting with bated breath to see how Rosberg will react to the situation he now finds himself in. There probably won't be a reaction from Rosberg because one isn't needed. He's gotten himself to this point and this position with a method that has worked for him the entire season, why change that now? A smart person once said: If it ain't broke, don't fix it. The reality is that Rosberg has to keep doing what he's done since the end of the 2015 season. It's up to Hamilton now to pull something out of his bag of tricks.
Rosberg's first chance to take the crown comes at the Autodromo Hermanos Rodriguez just south of Texas. If there is one thing that is true about Mexico it's that they love Formula 1. A record-breaking crowd at last year electrified the grand prix. The final sector's stadium section is likely one of the most visually stunning aspects of any circuit anywhere in the world. The hundreds of thousands of fans clambering for a glimpse of the heroes and raucous passion of all of them is truly something to behold.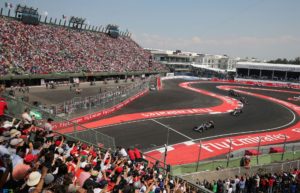 It might have something to do with the fact that they have two Mexican drivers on the grid in the form of Sergio Perez at Force India and Esteban Gutierrez at Haas F1. "It's a very special week for my whole career. It's probably one of the best two weeks of my career because it represents so much to racing, to motorsports in Mexico in general, and to me," says Gutierrez. "It's a kind of connection where I can share my passion for racing and what I do with all Mexicans. I feel grateful for their support".
Besides the second highest top speed, after Baku, the Mexican circuit provides several other challenges. "The primary feature of the circuit is its altitude which tests the turbo charger of the power unit, as well as the vehicle's cooling systems. The altitude is not only a test for the car, but indeed the drivers and the whole pit crew," says Williams' Chief Technical Head, Pat Symonds. "Of particular note is the brake duty cycle, with this circuit now being one of the highest benchmarks we need to achieve. For the second time in a row, the teams also have to handle back-to-back race events as we continue through the busy final stint of the season."
The circuit's demand on power unit performance will be prevalent this weekend. Normally, this would mean that Ferrari should have the edge over Red Bull and their Tag Heuer branded Renault engine. However, it has been a season of decline for the Italian team and not just on car performance. If they are to get anything out of this weekend they'll have to inch perfect.
Nico Rosberg stands on the cusp of realising his biggest dream – to become a Formula 1 World Champion. Despite this overwhelming prospect there is a feeling that Rosberg will continue to do what he's done best this season and see how the chips land at the end of it. One thing is certain though he will not relent.