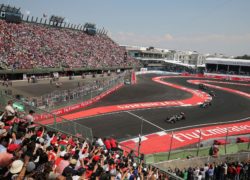 The Formula 1 season is almost at a close. We're in the final three races of the season with Round 19 and the Mexican Grand Prix the first up of the three.
The Autodromo Hermanos Rodriguez will host the Mexican Grand Prix in as many years. The 4.304km, 17 corner circuit was remodeled by Formula 1's preferred track designer, Herman Tilke.
The major point of the circuit is the 1.2km pit straight, where last year cars were reaching speeds over 350km/h. It kept most of the original layout. Turns 7-13 have been modified and are more angular. The old high speed, banked Peraltada has been modified and the circuit now cuts into a stadium section which then joins the previous Peraltada corner which has now been named after 1991 Mexican Grand Prix winner Nigel Mansell.
The high speed nature of the track usually means that teams run lower than usual down-force on their cars. However, this race is the highest race in terms of elevation on the F1 calendar which means the thinner air up at altitude means that teams can run a bit more down-force without impacting the top end speed.
This time last year Mercedes' Lewis Hamilton had already wrapped up the world championship. This year the title is still to play for with just 26 points separating Nico Rosberg from his team-mate Hamilton. Rosberg could potentially win the championship in Mexico by winning the race, but it would need Hamilton not to finish in the points.
The weather this year is slightly cooler with the northern hemisphere well into Autumn. Temperatures throughout the weekend will remain in the low 20s which means the cooler track temperatures should help with tyre degradation. Some rain is in the forecast but does not look like it will threaten the race weekend.