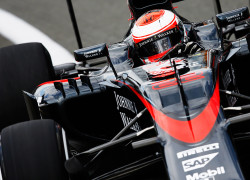 McLaren has passed a mandatory crash test for the front-end of its MP4-31.
The Woking based team reportedly completed and passed a dynamic test of the front of their 2016 car. The nosecone of the McLaren is rumoured to be similar in style to what the Red Bull Racing team ran in 2015. However, the longer nose as seen on the 2015 McLaren has not been ruled out as a viable option.
McLaren's MP4-31 will be launched on February 21 in the pitlane of Spain's Circuit de Catalunya. Rumours have also emerged that team has overcome it's power unit deficiency. Honda, who struggled throughout the 2015 season, are alleged to have solved the issue surrounding its energy recovery system. Some put the rumoured gains that have been made by the Japanese manufacturer in the region in 223 horsepower.
If it is the case the the Honda engine should be on par with that of Ferrari and Mercedes however it still doesn't answer the question of the woeful reliability the team endure throughout their 2015 campaign.
As the first test of the season draws closer you'd have to expect that rumours of such significant gains will remain pure speculation until the team and its drivers can get out on track and prove it.