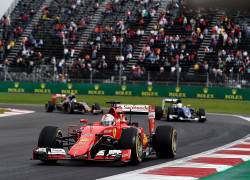 The 2016 Ferrari car is well on course to make its debut in February after passing a mandatory FIA crash test.
The safety regulations of the FIA dictate that all critical areas of a Formula 1 car pass a standardised crash test before it is allowed to be officially entered into any official FIA race.
The latest team to pass the crash test is Ferrari who received the official stamp of approval after undergoing several tests. Reports are that the Italian team needed several attempts at passing the test because sampled more than one nose for their 2016 challenger. The Ferrari team's 2016 car is already reported to be quite different from it's 2015 predecessor and is rumoured to be introducing a short nose concept for the new season. The new nose isn't so much a reproduction from what we've seen on other cars in 2015 but more a mixture between the nosecone sported by Mercedes and Toro Rosso.
The 2016 Ferrari, still unnamed, is expected to be launched towards the end of February as testing for the 2016 season gets underway in Spain.