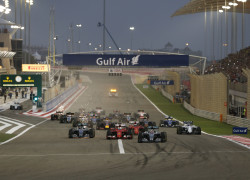 Formula 1 has long been known as a sport that is both complicated and the technical supreme of motorized sport. This and the allure of speed and victory and glamour is what draw millions of fans to it. But recently the sport, which celebrates more than six decades of existence, has been anything but glorious.
Of late all of what makes Formula 1 great has been overwhelmed and buried under the awkward mess of the new qualifying format. The elimination style qualifying format was universally slammed by all who tuned into the farcical hour that would determine the starting grid.
The qualifying change was an idea cooked up by Jean Todt's FIA, F1's governing body. It put the choice of the ill-conceived elimination-style quali or a reversed starting grid before the teams.  Rather than choose the preposterous idea of a reversed grid they opted for the lesser of two evils and so elimination-style quali came to pass. Subsequent to scorching criticism a reversion to the previous quali session was called for. However, F1's strategy group has decided to give the new format another chance in Bahrain. It's difficult to imagine that the new format will suddenly transform unenthusiastic opinion it's currently viewed with.
The qualifying debacle has, unfortunately, dominated headlines for the last two weeks. It's nearly made us forget that as the opening round of the 2016 season the Oz Gp was a compelling race. The choice of three tyre compounds in the race worked well and produced several different strategies up and down the field which is an exciting precursor for the rest of the season. And although Mercedes were eventual victors with a 1-2 finish they were pushed to the limit of what they could produce.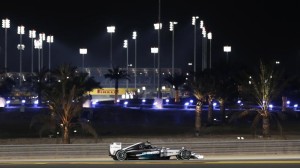 As Formula 1 tracks go the Albert Park circuit is unique. Its street-style layout is not a definitive barometer for car performance and it's difficult to overtake on. As the second round of the season Bahrain's Sakhir International circuit presents a bigger test on performance and more chances for overtaking. "The last corner flows quite well and if you can get close for DRS you can get a good run [to overtake] into Turn 1," said Red Bull driver Daniel Ricciardo. "If you don't get it into Turn 1, then there's Turn 4 or the middle sectors where it's easy to make mistakes. There's probably four places you can pass on the track which is pretty good."
As you might expect tyre strategy will play its role in determining what the final result on Sunday will be. The medium, soft, and supersoft Pirelli tyres are the choices available to drivers. Ferrari's Sebastian Vettel and Kimi Raikkonen has opted for three sets of medium tyres each while Lewis Hamilton and Nico Rosberg has taken only one set of the medium compound. It indicates that Ferrari hasn't ruled out an alternative strategy of a long stint on the medium tyre should conditions be suitable. In 2013 Kimi Raikkonen pulled off a two stop strategy to finish second for Lotus.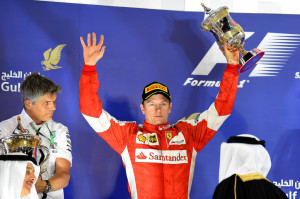 The Finn has a record of seven podiums at the Desert track and despite being inches away from winning the grand prix in 2015 has never stood on the top step of the podium here. As the Sakhir International circuit is clearly a venue where Raikkonen excels the 2007 champion may not be a bad bet for the spoils this weekend.
The Bahrain grand prix exploded into life on account of its transformation into a night race.  In 2014 it produced an exhilarating wheel-to-wheel battle between Lewis Hamilton and Nico Rosberg. In this race it was Hamilton who emerged a memorable victor. In 2016, it could produce a battle between Mercedes and Ferrari that you do not want to miss.