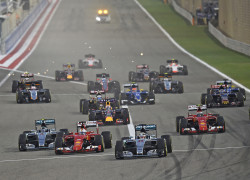 With the season opener behind us, teams fly across the Indian Ocean to Bahrain for the Bahrain Grand Prix and round 2 of the Formula 1 World Championship.
The Bahrain International Circuit is situated south of the Island State's capital. Built on an old camel farm, the Grand Prix circuit layout features 15 corners with 4 straights. Drivers are at full throttle for two-thirds of a lap around the circuit.
Coming off his victory in Melbourne Nico Rosberg will want to carry that momentum forward. Lewis Hamilton, showed excellent form throughout the Melbourne weekend and was faster than Rosberg throughout the sessions before the race. Mercedes will have watched the footage of Ferrari's starts at the Australian Grand Prix very closely and will be working on a solution for Bahrain.
Ferrari seem to be in the hunt Melbourne and Bahrain will be another gauge of how close they are to Mercedes. Their qualifying pace seems to be lacking but race pace is very close to Mercedes.
Red Bull looks like a team reinvigorated and are talking up their chances lately. With a solid showing from Ricciardo in Melbourne and with a substantial engine upgrade in the works for Canada they're looking to finish behind Ferrari to keep up their advantage over other teams like Force India, Williams and Toro Rosso.
Newcomers Haas F1 made a dream debut in Australia. Were they just lucky with a few things or are they the fastest of the bottom runners. We'll have a clear indication of this in a few more races.
| | | | | |
| --- | --- | --- | --- | --- |
| | CDT | GMT | GMT+2 | Local |
| Free Practice 1 | 06:00 | 11:00 | 13:00 | 14:00 |
| Free Practice 2 | 10:00 | 15:00 | 17:00 | 18:00 |
| Free Practice 3 | 07:00 | 12:00 | 14:00 | 15:00 |
| Qualifying | 10:00 | 15:00 | 17:00 | 18:00 |
| Race | 10:00 | 15:00 | 17:00 | 18:00 |