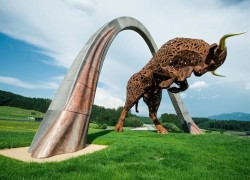 From the medieval city streets of Baku the Formula 1 paddock travels to the crisp countryside of Austria for the eighth round of the 2016 championship.
A case could never be made that Formula 1 lacks diversity. It swops the mostly tight confines of the Baku City circuit for the mountains and fresh air of Austria's Red Bull Ring in Spielberg. Located in the picturesque Styrian Mountains the 4.3 kilometer circuit is dotted with only nine turns. The average speed of a lap around the Ring is estimated at 224 kph while 70 percent of the lap is spent at full throttle.
There are only seven braking zones around a lap but they are big stops from high speeds, which classifies the brake wear rate as high. This no longer appears to be an issue for Mercedes in 2016 but should they not be running in clear air it could rear its head.
As the shortest lap on the calendar at less than 70 seconds the grid is expected to be tighter, which makes qualifying vital. In 2015 the top three positions in qualifying were covered by four tenths of a second. The circuit's four long straights mean that there is opportunity for overtaking but getting past a car with a good straight-line speed will be difficult.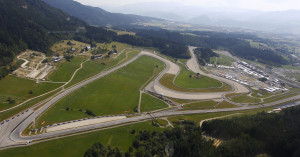 For this year's grand prix teams and drivers have selected the yellow-walled soft, red-walled supersoft, and purple-walled ultrasoft tyres. Both Ferrari drivers have selected nine sets of the ultrasoft tyres while Lewis Hamilton and Nico Rosberg have each opted for eight sets of the purple-walled tyres. Red Bull's Daniel Ricciardo and Max Verstappen have chosen seven sets of the softest compound. Tyre wear last year was minimal as Daniel Ricciardo was able to run a fifty lap stint on the soft tyre before needing to pit.
Ferrari's tyre choice could be put down to fact that this track surface is a relatively smooth one with normally cool conditions. This combination often presents some struggle in getting tyres to the optimum temperature. As they've continually struggled to get the tyres to their optimal working range Ferrari should find it easier to do with the ultrasoft  tyre. This will be a crucial element of Ferrari's progress and position this weekend.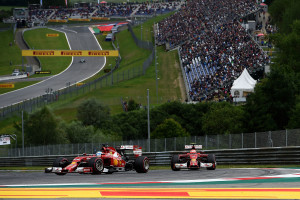 There is no doubt that Nico Rosberg is sitting pretty. He starts the weekend with a 24 point lead over Mercedes teammate Lewis Hamilton in the race for the driver's title. The fickleness of Formula 1 demands that even a gap of 24 points must not be taken for granted. It's this approach that has been Rosberg's secret in 2016; to take every race on its individual merit. But the two Merc drivers might have to focus on more than just each other, especially in Saturday qualifying.
Williams are notoriously good performers at the Austrian grand prix thanks to the Mercedes power unit and Red Bull are no slouches thanks to the stop up they've made with the upgraded power unit. But while they are looking at each other all of them are aware of what Mercedes can deliver. On several occasions in 2016 its been shown that the Silver Arrow is not as potent when it runs in dirty air and under pressure. The qualifying session on Saturday will be the critical point for any driver or team to stop a complete Merc domination.