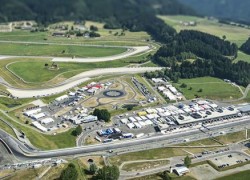 From the City streets of Baku Formula 1 moves the vast open planes of the Styrian mountains in Spielberg, Austria for round 9 of the Formula 1 World Championship and the 2016 Austrian Grand Prix.
The Red Bull Ring, previously known as the A1 Ring, hosted Formula 1 races from 1997 to 2003 when it was dropped from the calendar. The track was bought by Red Bull owner Dietrich Mateschitz and was rebuilt. The layout of the circuit, however, remained the same.
The circuit is 4.326 km with 9 corners and an elevation change of 63 metres from the lowest point in the pits to the highest point at Turn 2. The mountains around the circuit give it somewhat of an arena type feeling and crowds at the highest point have a good view of all the parts of the circuit.
Resurfacing work has been carried out on the circuit. Degradation is expected to be low with the smoother surface.
Mercedes are once again expected to come on top in Austria. In fact, all Mercedes powered cars are expected to perform well at this power circuit. Force India are on a great run of form and Austria should be another circuit that favors their cars characteristics. Williams have always performed well at the Red Bull ring and should be close to the front.
With a home Grand Prix, Red Bull are in much better shape than last year. Although tyre troubles hampered their performance in Baku, they're expected to be mixing it up at the top of the time sheets with Mercedes and Ferrari.
As we've seen with some circuits this season so far, lap records have been tumbling. This year the 1:08.337 lap record set by Michael Schumacher in 2003 is set to fall. We can expect to see a time 3-5 seconds faster this year.
| | | | | |
| --- | --- | --- | --- | --- |
| | CDT | GMT | GMT+2 | Local |
| Free Practice 1 | Friday 03:00 | Friday 08:00 | Friday 10:00 | Friday 10:00 |
| Free Practice 2 | Friday 07:00 | Friday 12:00 | Friday 14:00 | Friday 14:00 |
| Free Practice 3 | Saturday 02:00 | Saturday 09:00 | Saturday 11:00 | Saturday 11:00 |
| Qualifying | Saturday 05:00 | Saturday 12:00 | Saturday 14:00 | Saturday 14:00 |
| Race | Sunday 05:00 | Sunday 12:00 | Sunday 14:00 | Sunday 14:00 |