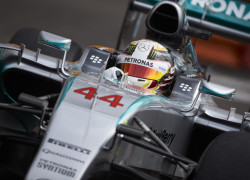 It isn't often in Formula 1 that you get what you ask for. Ahead of the second ever Russian grand prix the request was for a race with a bit more zest and the Sochi Autodrom delivered.
Where it concerned the winner of the race it wasn't high on the entertainment stakes. Lewis Hamilton ambled to career victory number 42 in his Mercedes without so much as a whiff of a challenge.
It appeared at the start of the race as if the double world champ would have some work to do as Mercedes teammate Nico Rosberg maintained his pole position off the starting line. But it wasn't to be for Rosberg as he was forced into retirement with a broken throttle pedal. It the lead up to the race the call for Rosberg to step up and take the fight to Hamilton and he responded with an authoritative qualifying performance.
Alas, now and then the unpredictability of F1 rears its head and inserts a searing reminder of how cruel the sport can be. If Rosberg's admittedly fragile championship dream was hanging by a thread before it has now been completely obliterated. The German driver trails Hamilton by 73 points with a maximum of 100 still available.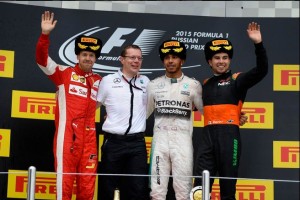 Ferrari driver Sebastian Vettel was never within striking distance of Hamilton but showed a solid enough turn of pace for a comfortable second place. The four-time champion pulled off two crucial moves on Raikkonen and Perez for his second place finish.
The race had two safety car deployments the first of which came on lap one for a collision between the Force India of Nico Hulkenberg and the Sauber of Marcus Ericsson. The safety car was deployed a second time as Romain Grosjean crashed his Lotus heavily into the barrier on the outside of turn three.
While Grosjean's race was over it prompted a roll of the strategy dice for Red Bull's Daniel Ricciardo and Force India's Sergio Perez. The two drivers would attempt a run to the flag, some 40 laps away, on one set of the yellow-walled soft compound tyre.  For Ricciardo it came to naught as he had to retire his Red Bull with a suspected suspension issue.
However, Perez was clinging onto third for dear life. But as Williams' Valtteri Bottas and Ferrari's Kimi Raikkonen, with fresher tyres, closed him down at a rate of knots it appeared that the Mexican would be consigned to the very least a fifth place finish. Unexpectedly, Raikkonen's attempt to overtake countryman Bottas proved a bit too feisty and the two collided into turn 4. The clash put Bottas out of the race and left Raikkonen with a damaged car.  Ever the opportunist, Perez swept past to take a deserved third place finish.
Willliams' Felipe Massa recovered from fifteenth on the grid to finish fourth; Raikkonen crossed the line in fifth but was later slapped with a 30 second penalty for the Bottas collision which drops him down to eighth. Local hero Daniil Kvyat finished fifth in his Red Bull ahead of Sauber's Felipe Nasr, Lotus' Pastor Maldonado, McLaren's Jenson Button and Toro Rosso's Max Verstappen, in tenth. The sister McLaren of Fernando Alonso would've finished in tenth but the Spaniard was given a five second penalty for not respecting track limits.
Subsequently, Raikkonen's thirty second penalty has resulted in Mercedes being crowned the 2015 constructors champions. In F1 you're only as good as your last race and while the 2014 Russian grand prix was a straight up bore fest it's 2015 edition delivered a race sizzling enough so that we can declare Russia redeemed.
(Podium image courtesy of Pirelli Motorsport).