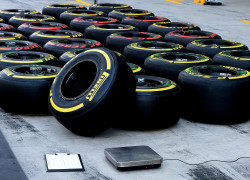 Formula 1 tyre supplier, Pirelli held a 12 hour tyre test at the Yas Marina Circuit in Abu Dhabi to assess the new Ultra Soft Compound tyres and a new tyre construction for the 2016 Formula 1 season.
A total of 1084 laps were completed and more than 6020 kms covered in the 12 hours seen McLaren's Stoffel Vandoorne set the best time of the day. The Belgian set the best time of the day of 1:44.103 with a total of 99 laps for the day.
A few conditions were imposed for the test however. Teams were not allowed to perform any aerodynamic tests, change any parts or try on any new parts. The test was run as a "blind" test which meant that neither the teams, nor the drivers knew the type of prototype tyre was being tested.
"The Teams tested several different potential variations of the new ultrasoft compound, from which one will eventually be selected," read a statement by Pirelli.
"Prototype tyres were not marked with any colours or other visible markings, while base tyres[super soft and soft compound tyres] carried the usual colours on sidewalls.
With the session running for almost 12hrs without any lunch break it was the longest single-day Formula 1 test in the history of the sport.
"We had one shot when it came to testing tyres for next season, and we can be satisfied by what we've achieved in this test, even if we have to fully analyze the data," said Pirelli Motorsport director Paul Hembery.
"We've tested different versions of the new ultrasoft compound for 2016, which was one of the targets for this session.
"The ultrasoft's target for 2016 is to introduce a compound softer than the supersoft and mainly designed as agressive choice for street circuits: with better performance than the latest version of the supersoft tyre and faster degradation, in order to allow the Teams to take a more aggressive approach to race strategy.
"Whether this will produce more pit stops, or any difference in strategies, it's too early to say for now.
"We will fully analyse our data and team telemetry once we get back to base.
"But it seems we are heading in the right direction: the ultrasoft is expected to offer more possibilities for certain races."
| | | | |
| --- | --- | --- | --- |
| Driver | Team | Time | Laps |
| Stoffel Vandoorne | McLaren | 1:44.103 | 99 |
| Kimi Raikkonen | Ferrari | 1:44.456 | 56 |
| Marcus Ericsson | Sauber | 1:44.480 | 50 |
| Jolyon Palmer | Lotus | 1:44.568 | 90 |
| Sebastian Vettel | Ferrari | 1:44.940 | 56 |
| Pascal Wehrlein | Mercedes | 1:45.605 | 107 |
| Daniel Ricciardo | Red Bull | 1:45.805 | 57 |
| Max Verstappen | Toro Rosso | 1:45.849 | 54 |
| Nico Hulkenberg | Force India | 1:45.852 | 71 |
| Valtteri Bottas | Williams | 1:45.940 | 103 |
| Daniil Kvyat | Red Bull | 1:46.309 | 48 |
| Carlos Sainz Jr. | Toro Rosso | 1:46.995 | 56 |
| Adderly Fong | Sauber | 1:48.439 | 57 |
| Alfonso Celis Jr. | Force India | 1:48.545 | 65 |
| Rio Haryanto | Manor | 1:49.593 | 56 |
| Jordan King | Manor | 1:49.661 | 59 |